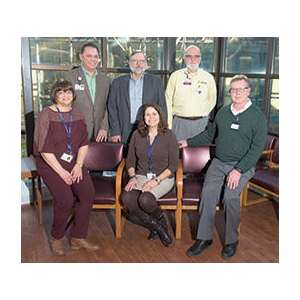 Breaking Down Silos in Care
Organizations of every kind struggle to break down work silos, those known enemies of efficiency and effectiveness. The stakes are even higher in health care delivery, where silos can be not just expensive, but deadly.
Adult & Child Center, a not-for-profit community mental health center founded in Indianapolis more than 60 years ago, has been on a mission for more than a decade to tear down silos and improve the health of its patients. By integrating the work of behavioral health and primary care providers, Adult & Child is improving the lives of teenagers and adults who struggle with mental and physical health disorders.
"There are no silos that separate our minds from our bodies," said Allen Brown, CEO of Adult & Child, which has eight offices spread among Marion, Johnson and Bartholomew counties. "It makes sense to look at an individual's total health and create an integrated plan." And that's what Adult & Child has been doing since research emerged more than 10 years ago revealing that people with mental health conditions die, on average, about 25 years earlier than the general population.
"Integrated care has been on our agency's executive dashboard for the last eight to 10 years," Brown said. And it's been in practice since 2010, when Adult & Child added primary care doctors to its main clinic at 8320 Madison Ave. More than 500 adults received integrated care in the first three years of the service. In 2013, through a partnership with The Jane Pauley Community Health Center, integrated service was extended to children as young as 13.
Read the full here