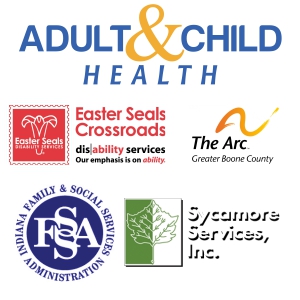 Adult and Child Health, The ARC of Greater Boone County, Easter Seals Crossroads, and Sycamore Services have partnered to form the Central Indiana Pre-Employment Transition Services collaborative (Pre- ETS).  These partners are agencies who support those with Intellectual and Developmental Challenges and we are very excited to be at the table to work with these partners and these people, due in large part, to the work of Carla Orr and her team.
With funding from the Indiana Bureau of Rehab Services Pre- ETS will provide high quality Pre-Employment Transition Services for students with disabilities between the ages of 14 and 22. These new program services will engage students in up to 58 high schools across 9 Central Indiana counties including Marion, Hamilton, Hendricks, Hancock, Shelby, Johnson, Morgan, Boone and Rush.
Our JobLinks staff will deliver services in several schools. We believe that the services made available through this funding, combined with the experience of our group of community rehabilitation providers will ultimately provide significantly improved outcomes for students with disabilities exiting their high school experience.