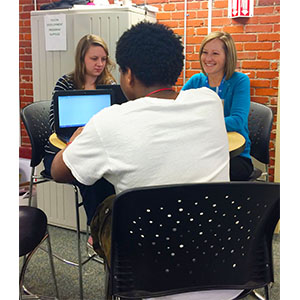 ADULT & CHILD HEALTH ANNOUNCES NEW GRANT FUNDING
Indianapolis, IN – Adult & Child Health has received a grant totaling $120,000 from the Nina Mason Pulliam Charitable Trust to improve educational outcomes for students in foster care. This grant affords provision of The Educational Success for Foster Children Program, which provides mentoring, educational advocacy, and academic support for foster care youth at risk of falling behind in grade level or dropping out.
The award comes at a pivotal time for Adult & Child Health, a Licensed Child Placement Agency, Community Mental Health Center, and Primary Care Provider, as the number of children in foster care rapidly continues to climb; a direct correlation with Indiana's opioid and parental substance use epidemic.
Educational outcomes for youth in foster care are tragically poor. Recent data reflect many barriers these children face in the pursuit of an education. Foster care youth have significantly higher rates of absenteeism and disciplinary referrals than their peers. They are twice as likely to repeat a school year; over 80% percent are held back as early as third grade, the year they begin state standardized testing.
"We are all impacted when we hear stories of the trauma, abuse and neglect that the youth in foster care have experienced in their young lives. Our efforts to keep them safe and protected are important, but our ability to improve their long term outcomes rests in our successes in securing their education," said Stephanie Yoder, Chief Operating Officer. "Adult & Child is seeking to change the outcomes for youth in our care.  Our education advocacy services, led by Tracie Mansfield, support out-of-home youth by breaking down barriers to success in education."
Mansfield, a licensed teacher and agency's Educational Advocate, identifies unmet education needs and provides workable strategies to allow foster youth in Adult & Child's care attain their educational goals. Through training and support, she and her team equip foster parents to advocate on behalf of the children in their care. They coordinate tutoring and assistance to ensure educational credit recovery, remediation, and ongoing access to academic programs outside of the school day. The educationally vulnerable youth in foster care are better positioned for long term self-sustainability and success with the support and resources provided by this award and unique program design.
The grant to Adult & Child Health represents one of 28 awarded to nonprofit organizations in Indiana by the Nina Mason Pulliam Charitable Trust in 2016. "During her career, Nina Mason Pulliam shared her financial success and business leadership skills with many charities. She had a keen awareness of challenges that face our community and would take great pride in the outstanding work being done by organizations like Adult & Child Health," said Carol Schilling, Trustee chair.  "Through her Trust, we continue to build on her legacy, which clearly reflects her heart for philanthropy."
For more information about Adult and Child Health, please contact Britney Veach, Director of Mission Advancement, at 317-982-0047 or bveach@adultandchild.org or visit www.adultandchild.org.