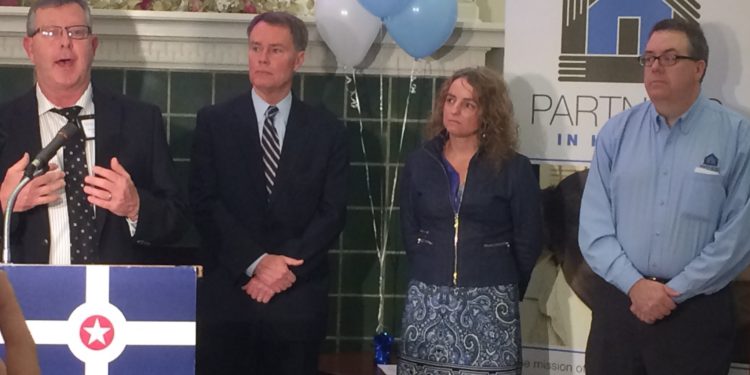 Adult & Child Health was recently announced as a partner in the Housing and Medicaid Services Pilot Program, led by the City of Indianapolis, Anthem Blue Cross Blue Shield, and Partners in Housing. Mayor Joe Hogsett held a press conference at the Blue Triangle Residence Hall to unveil the project.
Also being referred to as the 'Blue Triangle Pilot', the initiative will support Anthem members experiencing homelessness by improving overall health and quality of life, fostering social connections and supporting housing independence. Mayor Hogsett announced this first-of-its-kind pilot after declaring his commitment to reducing Hoosier homelessness earlier this year.
"Without our collective dedication to our city's most vulnerable neighbors, today's announcement would not be possible," said Mayor Hogsett at the press conference. "The pilot program is designed to connect participants with sustainable, secure housing that will support autonomy, provide connection to wrap around services, and improve residents' health and quality of life."
The program will only be available to Anthem Medicaid members and will target individuals experiencing homelessness who may have significant mental health and/or substance use issues, multiple physical health issues, and need access to acute, care crisis services. Anthem, in addition to providing customary Medicaid benefits, will fund and support intensive health care and social services navigation services and intensive tenancy and housing support programs. The City of Indianapolis will provide funding for beds and facility costs.
"We have effective programs to help persons experiencing homelessness, but more work is needed to align efforts across agencies," said Allen Brown, CEO of Adult & Child Health. "The Blue Triangle Project combines transitional housing, job training, and healthcare services, including mental health and addictions services, so that Anthem members can break through and overcome the devastating cycle of homelessness."
The pilot program, designed as a short term initiative, began serving and placing participants on May 1st, and will operate for one year. The Blue Triangle Residence Hall, located at 725 N Pennsylvania St, can house up to 50 pilot participants at once. Two Adult & Child staff members are embedded in the Residence Hall, providing outreach as well as health care and social services navigation.