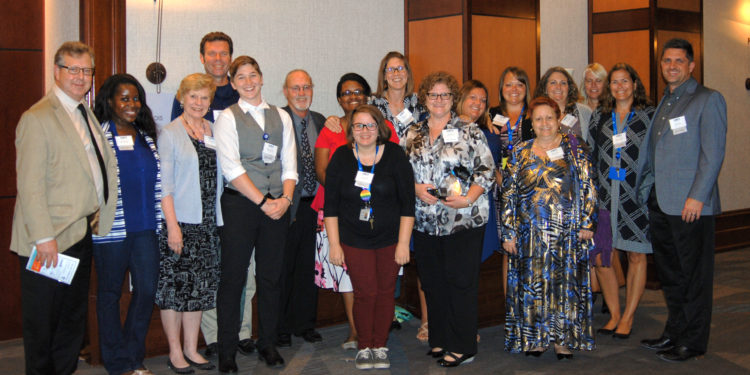 Allen Brown CEO, Baindu Bayon – Board Member, Sue Collins – Board Chair, Scott Vail, Kelsey Kennedy, Ken Catenacci, Tiffany Pettiford, Sara Alrajabi, Amanda Alvis, Lia Hicks, Jen Disbro, Aja Boudreau, Dawn Shimp – Board Member, Andrea Cruser, Denise Amato, Stephanie Yoder, Dan Arens
On September 19, 2017 Adult & Child Health (A&C) was honored to be selected as the Coalition for Homeless Intervention and Prevention (CHIP) Homeless Service Provider of the Year. Each year CHIP recognizes one organization that provides outstanding services to those facing homelessness. The Homeless Service Provider of the Year celebrates compassionate care and innovative services that help persons overcome barriers to permanent housing. It recognizes an organization actively involved in ending homelessness through collaborative systems work in the Indianapolis-area Continuum of Care.
"Our team truly loves what they do. I'm so proud of them," said Lia Hicks, Associate Director of Specialty Services. For 30 years Adult & Child Health has worked with community leaders and agencies on a shared mission to fight homelessness. In that time A&C has built and partnered on many programs including PATH, Critical Time Intervention, the Program Application and Technical Assistance Committee, the Homeless Youth Taskforce, and the iHOST Steering Committee. In 2016 A&C opened a downtown primary care clinic bringing increased medical service options to the homeless. A&C recently joined the City of Indianapolis, Anthem Blue Cross Blue Shield, and Partners in Housing to launch the Blue Triangle Project, a unique program helping persons get off the streets into permanent housing through services directly targeting the physical health, mental health and socioeconomic conditions that lead to homelessness.
"We share CHIP's vision of a community without homelessness and believe the vision is possible through effective, accessible services in the safety net network," said Allen Brown, Adult and Child CEO. "We appreciate this honor from CHIP for our outstanding staff, the life-changing work they do, and this important aspect of the A&C mission."
Adult & Child Health is a leading provider of behavioral health, child welfare, and primary care services in central Indiana.
For more information about Adult & Child, please contact Dan Arens, Chief Strategy Officer, at 317-882-5122 or darens@adultandchild.org