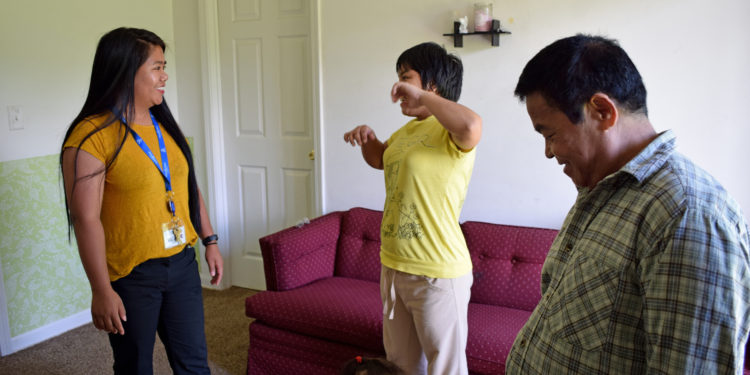 For Unchana Thamasak, 2016 began with the opportunity to build something from the ground up. Newly hired as the Team Leader for the Neighborhood Program grant, she was tasked with creating A&C's first focused effort to reach out to the underserved populations of Indy's immigrants and refugees. Unchana comes from a background in mental health as a licensed mental health practitioner, working as a therapist both at the IUPUI counseling center and for her own practice. Community mental health for immigrants and refugees was a step in a new direction for her as well as the agency. Funded by the Department of Mental Health and Addiction, the Neighborhood Program is a two year grant with an option to renew for another two years at 50% of the initial funds. Though this particular funding stream will one day dry up, the NP is likely to continue. Unchana describes the grant as a type of "seed money" helping to build the infrastructure of a program that will live on.
Like with many grants, there are some rigid stipulations included in the contract for the program, but the main objectives are simple: to decrease stigma and increase awareness of mental health in all communities served. The largest community of refugees in Indiana is Chin-Burmese, which currently makes up 60-70% of the NP's client base. The rest of their client repertoire is quite diverse including Syrian, Cambodian, Congolese, and Hispanic clients.
The NP is composed of four employees: Unchana as team leader, Shelley Landis as the resident therapist, and two Peer Support Specialists, Zaitin Par and Diana Hernandez. It is important to the program to hire Peers who are embedded in the communities A&C is attempting to reach out to.
This stipulation of the contract comes from the fact that advertising the program through the traditional avenues will not work to reach refugee populations. Due to this, the NP uses varying tactics to connect with potential clients. The program's Peer Specialists often frequent meeting places, organizations and churches where these populations congregate in order to publicize the NP message and establish connections.  However, the most consistent source of new clients is through referrals of community partners, many of whom either work in refugee resettlement or are connected to displaced people and ethnic groups. In the first year of the program (2016) there were only three main referral sources: the Burmese American Community Institute (BACI), Esperanza Ministries, and Catholic Charities. But since the scope and influence of the NP has expanded, so has the amount of community partners referring clients. Referrals can be made for a multitude of different health issues. Some of the most common have been post-trauma, depression, anxiety, schizophrenia, and schizoaffective disorder.
These issues are addressed through standard A&C methods such as therapy and skills development, but what sets the NP apart is their focus on a few nontraditional approaches to care. Every Thursday at 3:30 the staff holds a "Mindful Movement for Wellness" class that combines yoga and mindfulness techniques. One of the biggest challenges for the team is the language barrier between them and their clients. Interpreters are a great help, but without the option for immediate connection, it's difficult to process traumatic memories through talk therapy. In response, the team has incorporated an approach using body movement and mindfulness infusion as one alternative. "Also, body movement and mindfulness infusion helps with self-calming and self-soothing as well as allows their bodies to process traumatic memories," said Unchana. The community garden is another approach with multi-layered benefits to self and community.
And all of these different interventions seem to be serving their purpose. Satisfaction rates have been on the rise since January, reflected in different types of client satisfaction surveys. A report from a care coordinator who works with various teams noted recently that, relatively speaking, the NP clients seem to progress rapidly and "move from point A to point B in a noticeable manner."
There are many hopes that Unchana expressed about the future of the program. In working with immigrant and refugee clients, she notes that for older people, she hopes the NP can provide intervention for them to become as self-sufficient as possible. For younger people, the hope is to help them fully integrate into society and learn how to maintain a healthy mind and body. They will then pass on what they learn to peers, siblings, and eventually their own children. "I hope they will be more integrated into society while also maintaining their own unique culture," she said.
As the NP grows in influence, Unchana hopes that it can serve as a conduit to the full scope of what Adult and Child has to offer. Her vision involves using the NP as a stepping stone, making immigrant and refugee populations more comfortable with Adult & Child and with accessing health care in general.
Helen and her family are Burmese refugees involved in the Neighborhood Program. Read their story here.