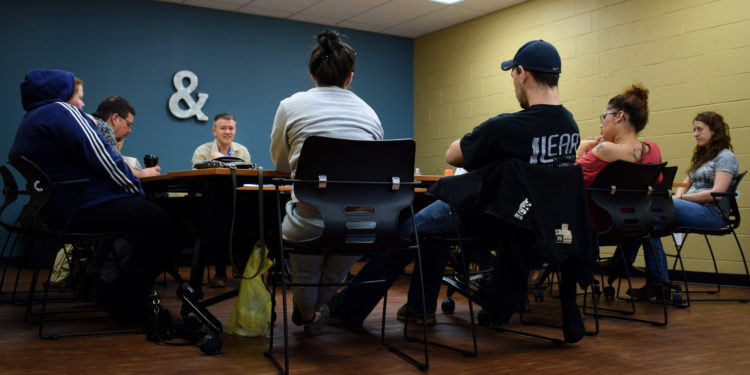 Mental illness and addiction are cousins. They're related. They share a similar bone structure and can often trace their lineage back to the same type of pain. Adult and Child as an agency has always known this and has always offered addictions support. However, the opioid crisis hit addictions treatment in Indiana hard. The addictions team at A&C was no exception. It forced this service line to make a decision in the face of such a heavy burden: to strengthen or to snap. They chose to strengthen.
2017 was a year of rebuilding for the addictions team, according to Lyndsey White, Assistant Director of Outpatient and Addictions. And she would know, because she was the one who built it. Hired this past May, Lyndsey worked closely with Director of Outpatient and Addictions, Tara Elsner, to develop the best team and service structure possible. This involved hiring nine Licensed Clinical Addictions Counselors and creating a working relationship with every service line that could offer substance abuse assistance. The opioid crisis put a strain on addictions from day one, but the team's passion when working together has stirred a lot of hope in Lyndsey. "We could have 100 providers and still not reach everybody. But that's our goal," she said. "The cooperation and relationships between [the team] is so inspiring… just to see people that work so well together and want to pick up and help out." Licensed Clinical Addiction Counselors are now stationed in all our offices and are fully integrated into the A&C continuum of care.
Clients enter addictions treatment in a few different ways. Some are incentivized by either the Department of Child Services or as a stipulation for probation. A&C services are voluntary and there are often a high number of self-referrals. A call to the Call Center (877-882-5122) or a visit to Open Access can get them on the right track. "I know it sounds so simple, but really it's not," said Lyndsey, "For someone to make that decision to ask for help takes a level of courage I couldn't even imagine." A&C is also careful to screen people who come through Open Access for mental health or physical health issues for substance abuse disorders. From there, the access screener can refer them to any necessary service based on those screenings. It's common for mental illness to spark and feed substance abuse disorder & vice versa. Because of this, it's important for this team to employ dually licensed clinicians. They often treat the two at the same time as well as teach how these illnesses impact one another.
The level of care will always depend on the client. The addictions team currently has three different tiers of group support. The highest level of support is the Intensive Outpatient Program (IOP). This group meets three times a week for three hours for up to 16 weeks. This is often in conjunction with Medically Assisted Treatment (MAT), where doctors from our primary care clinics keep a close eye on the client's physical health. There are many physical side effects from using and withdrawing from substances, which is why treating health complications in tandem with other supports makes sense. Part of MAT can also involve receiving Vivitrol treatment. "We're very fortunate that all of our staff now are trained at providing Vivitrol in the injectable form, which is a preferred method to help combat the opioid epidemic," said Lyndsey. Vivitrol, a brand name for the substance Naltrexone, blocks the effects of an opioid high for up to 30 days. All these layers of support exemplify the Matrix Model, which is a term signifying the use of multiple layers of support applied with multiple strategies & techniques to fully equip people to maintain sobriety. The idea of this group is to wrap the client in support. So many factors feed substance abuse, and the addictions team addresses as many of them as possible so clients achieve as much success as possible.
The next tier down is the Living in Balance group, which is less intensive. They meet for two hours two days a week. Many referrals from DCS feel comfortable here and it is modeled for someone who is functioning at a higher level and can fit into a full-time work schedule.
The Brief Intensive Group is for people experiencing substance use that is teetering on the verge of disorder. For two hours one day a week, participants learn more about the complications of long term substance abuse and how to combat the compulsion early on. Motivational interviewing plays a big role in this type of treatment. Building avoidance skills before physical and mental dependence forms gives participants a high likelihood for success. Everything taught in each of these groups is evidence-based and considered best practice within the industry.
Participation in any group is punctuated with individual therapy and/or family therapy and skills development sessions if needed. Group treatment has the most evidence for success, but individual treatment is also an option for those with social anxiety or who simply aren't comfortable. The addictions team in conjunction with Open Access can create tailored treatment plans depending on peoples' individual circumstances.
It's in this way that A&C embodies the idea of a continuum of care. Health care in general, but especially in addictions, sticks better when all aspects of wellness are addressed simultaneously by collaborating professionals. Lyndsey expressed special excitement about the addition of MAT, which is something new to A&C and made possible by the launch of two primary care clinics in 2016. "Integrated health is kind of revolutionary in how you do treatment in general. In the population that we're treating, that suffers from substance abuse disorder, it's night and day. There are some serious medical complexities for those who have long-standing issues with chemical abuse [and alcoholism.]"
Addictions continues to expand into different spaces to provide treatment. "Something I am so unbelievably excited about, is our adolescent substance abuse treatment program, which has been a community request for [a long time]," said Lyndsey. This group, now in operation, is designed for 14-18-year-olds and uses the Matrix Model. This group meets at our 8320 Madison Avenue location for two hours, two days a week. It addresses the full scope of combating addiction, with focus placed on relapse prevention training and developing intervention skills to build coping abilities.
Lyndsey notes that family inclusion in the healing process is incredibly helpful, but often a component that gets overlooked in treatment. "The supports around people suffering from addiction are what helps them every second of every day." While the current program includes working with a client's identified family, she hopes the future brings more opportunities for family inclusion. Other future dreams involve giving back to the community during recovery month. She also hopes for an ongoing dialogue between the addictions team and the rest of the agency. "If someone has a question concerning addictions, I want them to feel comfortable asking it. I want to make sure that everybody has access to our team and they're expertise so everybody feels like they can get answers." Lyndsey has the same advice for curious case workers as well as community members looking to overcome their addiction: "Don't be afraid to reach out."
Emily is a client of our IOP program, watch her story here.