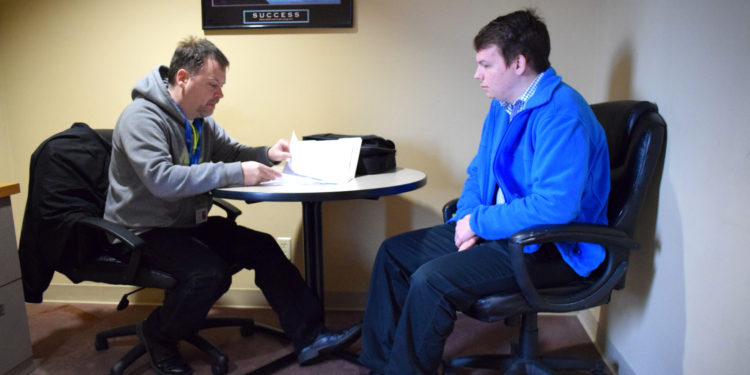 For the marginalized populations we serve, a job could mean the first foothold onto a more stable life. Though it's not always as easy as fill out application, go to interview, get hired. Layers of mental illness, disability, or injury pile high into hurdles that are difficult or even impossible to clear alone. Aptly named, Job Links serves as a link into the employment world. Their job is to constantly keep getting jobs for those who need both a partner and an advocate.
The Job Links team is composed of a Team Leader and an employment staff of seven. Five employment specialists work in the community and two career coaches are embedded in participating high schools.
Employment Specialists manage a caseload of clients, working with each person to determine & execute the best method to achieve lasting employment. Though new, the school coaches are an important addition to the team. After a yearlong process to get the position up and running, they are currently making waves with high school-aged clients. School coaches work with students who have Individualized Education Plans, 504 Plans and disabilities, preparing them for college & careers. "I get tons of great feedback about the work they're doing in schools," said Team Leader, Carla Orr. The school coaches have also began working with School Based teams encouraging collaboration and generating referrals.
All team members work with clients one-on-one, building a relationship along with a resume. This often begins with a get-to-know-you phase where a coach digs into a client's personality, interests, and struggles. Getting their client their dream job is the ultimate goal, but focusing milestone to milestone and managing setbacks as they come has proven the most sustainable method of working through the program.
John Wichter is an Employment Specialist about to celebrate his one-year work anniversary with Adult & Child. "I spend the majority of my time out in the community," he said. "Going over to a client's house to meet and fill out applications or, like yesterday, I had a client do a work experience session at Goodwill where I go in and observe them on the job for a couple hours … to see, before we place them, do they have enough stamina? Does it look like they have any knee or back pain? Can they get along with others? … I do a lot of work to build relationships with local businesses. You don't want to set somebody up to fail."
But this work isn't just a job to him, it's a calling rooted in personal understanding of how much it can offer people. John's A&C journey first started decades ago, as a client of the team he now works for. "I work very very hard at what I do because that used to be me on the other side of the table. I take it personally, I'm in it to change lives." Through working with Job Links as a client, he found and sustained a steady job for 16 years. He then went on to earn an MBA and eventually returned to Adult and Child, this time as a Job Links Employment Specialist to give back to the program that meant so much to him. "When I first came in contact with Adult and Child in 1994, I was just a scared person with a mental illness and a lot of very great people have helped me out along the way and I plan to do the same."
Carla describes the client-coach relationship as a type of partnership. "I want to work as hard as you do to find a job," she said. "There may be things that you can't do or aren't able to do for certain reasons, but I believe everybody can do something." The partnership angle seems to help clients retain the jobs they get more often by helping foster a sense of accomplishment.
Both Carla & John agree that one of the most difficult parts of the job is battling the stigma around mental illness & invisible disabilities. While disability inclusion has improved in recent years, there is still work to be done, especially for our population. Breaking down those barriers with employers is imperative to creating opportunities for clients. Carla notes that her teammates have a social workers heart, but also, "they have a marketing and PR ability that necessitates a lot of the work they do. If you can't go out and talk to employers or if you're too shy to present in front of a business … you're not going to be able to develop a specific niche job for someone or an opportunity to shadow," she said. Team members take pride in educating employers, championing their clients, and working creatively to generate unforeseen opportunities.
Historically, Job Links maintained a strong relationship with the state's Vocational Rehabilitation (VR) Program, receiving most clients and funding from them. VR funds job-specific services to people who qualify based on disability, injury, and/or mental illness. But recent changes in the VR program have drastically tightened its eligibility and shifted the pay structure, hitting Job Links hard. "When I first started, I had about 90% VR clients," said John. "Now it's about 50-50." This change has not just been a shock to the program financially, but practically as well. VR gives Job Links the opportunity to bill for their exact purpose: career coaching and all things career-related. Working with other funding sources tempers Job Links' ability to bill directly for career-related coaching. This team's creativity-driven hustling skills are now being used to help the department adapt: "We've tried to turn it around into something positive," said Carla, "The good thing that has come from this is that we're excited to reach out and work even more collaboratively, even more than we used to with the individuals that are served here [at Adult & Child.]" Billing structure in Medicaid and other types of insurance can pay for services related to career coaching, such as skills development in areas like interpersonal communication, conflict resolution, self-sufficiency, etc., but not directly career-related tasks like filling out applications, resume development, or work experience supervision.
Though these realities seem uncomfortable, the team is staying optimistic, treating the big changes like big challenges, something Job Links is no stranger to. While Job Links has always taken A&C referred clients, it's becoming more of a primary focus as VR pulls away and the team adjusts to a new rhythm. "I'm excited when we're able to understand a broader picture of what's going on in clients' lives," said Carla. She reports a much higher success rate when Job Links is included in the bigger conversation about all the different factors affecting a client's life. Getting a chance to hear multiple perspectives on the challenges and barriers the client may be facing has been difficult to receive with VR cases. The team is ready to "come to the table" and participate in multi-layered supports for A&C clients. "With the seven folks here, we're ready to partner. Now can we serve everybody at the agency who wants to find a job? I hope so. One day," said Carla. "I'm not so naive to think that seven people can do it all, but seven people can start to make a difference for some folks."
Cynthia successfully worked through our Job Links program. Read her story here.