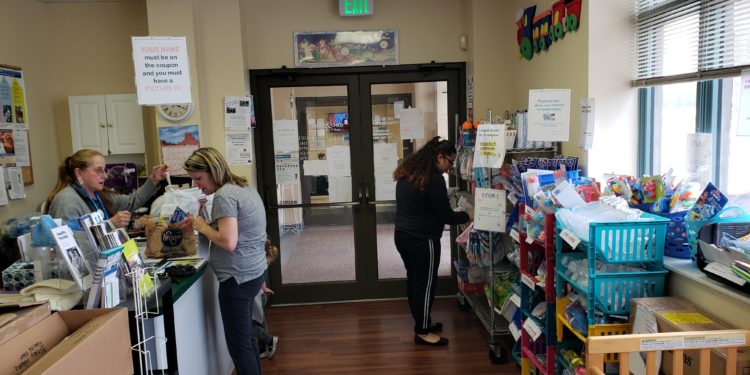 There's a store just off Madison Avenue on Indianapolis' near southside that doesn't take cash or credit for any of the baby essentials inside its walls. Instead, it takes coupons its patrons earn by attending classes that help improve their lives, in some form or fashion.
Beds and Britches, Etc. (aka the B.A.B.E. store) is located in the same building as Adult & Child Health's new Garfield Park clinic, at 234 E. Southern Ave. It offers everything from diapers to car seats and everything in between for newborns and their parents.
"The B.A.B.E. Store is a great fit for A&C's mission and we're very proud to be in a position to support the project going forward," said Dan Arens, chief strategy officer and director of community health. "It's just a great way to support healthy starts for the kids we serve."
Each item costs a certain amount of coupons. Debbie Busbin, the store's manager, has run the store for almost nine years. Adult & Child Health and the Marion County Health Department sponsor the store.
"I've been there," Busbin said of the parents who shop at The Babe Store. "I know. I had four kids who were 20 months apart. My husband was on the road a lot."
RELATED CONTENT: Learn more about Adult & Child Health's primary care offerings and clinic locations.
How do you earn the coupons for baby essentials?
The store works as an incentive program of sorts. Parents or guardians who shop at the store can earn coupons by utilizing health care and social services. These include doctor appointments, taking breastfeeding classes, smoking cessation classes or other similar courses that offer the coupons.
The store offers baby essentials such as new and used clothing and supplies for pregnant women and children up to age 5, in sizes newborn through 5.
Busbin said the most popular items at her store are car seats, high chairs and booster seats. "We run out of these so fast," she said. "I have people waiting in line for them when I get delivery."
There are four other B.A.B.E. Store locations in Indy, but Busbin said hers is the busiest. She calculates that by tabulating the exchanged coupons she receives. She suspects the location plays a role. It's also the only B.A.B.E. Store location in Indy that's open Saturdays (from 8 a.m. to noon).
"I'm the only one in the center (of town)," she said. "We get a lot of customers from the westside as well, and we get a lot from (the southside). A lot of them take the buses, too. (There's an IndyGo stop across the street)."
The Health Department supplies the store's inventory, and Adult & Child sponsors the store.
How the store can help
Busbin has managed the store since 2010, and has seen all types of families. Her fondest memory within the store involves a couple that was expecting a child and had recently moved to the Indy area. They knew no one nearby and had few baby essentials.
She helped the couple with necessary items, then directed them toward her daughters, who had recently given birth and had some items they no longer needed that could help.
Busbin said knowing the store helps folks in similar fashion is the most rewarding part of her job.
"I made somebody smile," she said. "We have no idea what their day's going to consist of. We don't know what they've been through. But if they can come in my store and if I can put a smile on their face, that's what it's worth."
RELATED CONTENT: Want to become a foster parent? Click here to learn more. 
STORE FACTS
Where: 234 E. Southern Ave., Indianapolis (southeast corner of Madison and Southern avenues)
Days/Hours: Tuesday and Thursday, noon to 4 p.m.; Saturday, 8 a.m. to noon
Phone: 317-784-2223
Who distributes coupons? IU Health Physicians Family Medicine Center, Eskenazi Community Health Centers, Health Net Health Centers, St. Vincent Primary Care centers, St. Francis Health Center and Family Practice, Marion County Public Health Department Immunization clinics, Care Coordination teams, Community Health OB/GYN and Pediatric Clinics, Eskenazi Health Center Primary Care, Shalom Wellness Center, Raphael Health Center, Healthy Families, The Villages Healthy Family and WIC. Coupons must be filled out completely on the front by the health care provider. Coupons must be signed and stamped with date of service, or B.A.B.E. stores will not accept them.
Click here to see a complete list of the store's offerings and the amount of coupons customers will need to purchase each item.