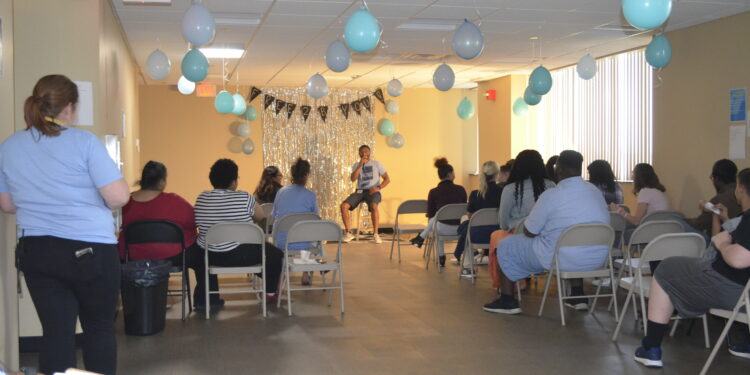 Chris Pack is a 20-year-old graphic design major at IUPUI. He's taken part in Adult & Child Health's Youth Development Program for three years.
As he sat at the program's annual art show, displaying his photography, he talked about his future plans. They include becoming a creative director somewhere, and establishing scholarships to help kids in similar situations.
"This program is amazing," Pack said. "I've always wanted to inspire people through my artwork. I don't want to just do it for me. I want to be for other people. What's the point of achieving anything if you can't impact people?"
The art show is just one of several activities and initiatives the program pushes to improve its youths' lives.
RELATED CONTENT: Spotlight on Youth Development
What else is Youth Development doing?
The Youth Development Program's efforts don't stop with an art show. Here are a few of its latest initiatives:
Transportation is the highest rated barrier around youth accessing services through the Youth Development program. The youth partnered with IndyGo to host a transportation day to learn and grow their confidence using public transportation. They went to the Julia Carson Transit Center downtown to learn how to read bus route maps, basic bus etiquette, and practiced the difficult bus locks on the front of the bus.
Additionally, the Central Indiana Bicycling Association provided Adult & Child with a $750 grant to distribute bicycles, helmets and locks to youths.
They offer the Healthy Teens Connections Program through the Marion County Courts. A judge will refer a youth to an Adult & Child staff member. The staff member and the youth will meet 1-on-1 to provide the youth with sexual and reproductive health education. They'll also link youth to community resources based on each youth's needs
Health Care Education and Training Inc. (HCET) awarded Youth Development team funds to implement a new adolescent leadership program. Lead clinician Angel Crone is leading a group of eight youths called PATCH (Providers And Teens Communicating for Health). The PATCH Teen Educators share their insights into the concerns, preferences, and realities of today's youth in health care settings. They challenge providers who attend the workshops to consider ways in which they could be more "youth friendly" through policies and practice within their own organizations.
How Healthy Teens Connections works
"Our goal in this was to really try to reduce teen pregnancy and increase access to equal sexual and reproductive health care from the court bench on," said Amanda Reuter, Youth Development team leader, referring to the HTC programming. "Having key stakeholders buy in from the start of an innovative program allows community partners and other organizations to carry value and importance to the overall goal."
Youth Development's Healthy Teen Connections Program offers individual hourlong meetings at A&C and in Marion County courts. Youth lead and drive the meetings; they're not forced. Reuter said they've served over 400 system-involved youth in the last two years.
A&C partners with Children's Bureau, Valle Vista, V.O.I.C.E.S. and its own Therapeutic Foster Care program to connect and provide HTC programming to system-involved youth. HCET also provides support for this project.
Reuter presented the HTC program June 25 at the 2019 Family and Youth Service Bureau Adolescent Pregnancy Prevention Grantee Conference in New Orleans. The presentation focused on the innovative approaches on building supports, and partnering with courts to improve adolescent health care access.
RELATED CONTENT: Learn more about our School-Based services and how they help students excel.
Who's on the team, and how is it funded?
The Indiana Division of Mental Health and Addiction awarded the Youth Development Program its Transition Aged Youth grant each of the last four years. It amounts to $150,000 each year, and helps fund two full-time Youth Development Specialists and a part-time peer position.
The team meets with youth four times weekly in a group setting and then transitions into the community to address individual treatment goals.
Thanks in part to the grant money and the team's efforts, the group meets with youth ages 12 to 24 frequently. Reuter works with youth development specialists Duane Curry, Anthony England, Hannah Milner and Mason Wanders, along with Healthy Teen Coordinator Caitlen Brandt and Crone, a lead clinician.
Throughout TAY programming, Youth Development embeds community service and pro-social activities  into the program. This allows youth to participate in different experiences throughout their community, which allows self-efficacy as they transition into adulthood.
"There's such a stigma about mental health," Reuter said. "This (program) provides a safe space for you to be you, and allows youth to receive support around future goals."
RELATED CONTENT: I Took Mental Health First Aid Training. Here's Why You Should, Too.
Youth Development's fun activities
The art show drew about 25 youth participants, along with trusted adults, including parents, educators and other mentors. It included paintings, drawings, cutouts, photography, poetry readings, musical performances, storytelling and other expressive acts.
The group's currently planning an outdoor Fall Bash, which is a recruitment event of sorts to encourage youth to join the program. Reuter said they've done the event, which includes a DJ and food, for about five years.
The youth set the structure for several of the Youth Development programs. That's intentional, Reuter said, "because it increases investment in programming. The youth development program leads with youth choice and voice at the forefront of their mission.
"Seeing youth comfortable in taking ownership in this space and helping advocate and bridge the gap between services and resources in this community is rewarding," Reuter added. "They show up as they are, and it helps reduce the stigma around mental health in our community, which allows them to get connected to services in a meaningful way."
RELATED CONTENT: How Our LGBTQ Taskforce is Making our Agency and Community More Inclusive
Support for this project is provided by Health Care Education and Training, Inc. (HCET) through the Personal Responsibility Education Program (PREP) Competitive Grants under the Affordable Care Act (ACA) HHS-2015-ACF-ACYF-0984.