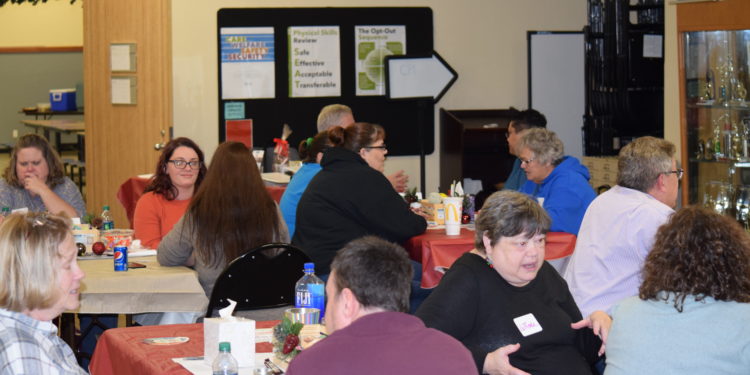 Twice each month, a group of six to 16 parents gather on a Friday evening. They don't take part in the types of activities you'd typically associate with Friday nights, although they do eat dinner together.
Instead, it's an opportunity for them to exchange ideas and concerns and how to become better at their most important responsibility – parenting.
"We're not here to fix anybody," Rodney Burton told the assembled group of 14 parents at a December meeting. "None of us are here as professionals. We're here as parents."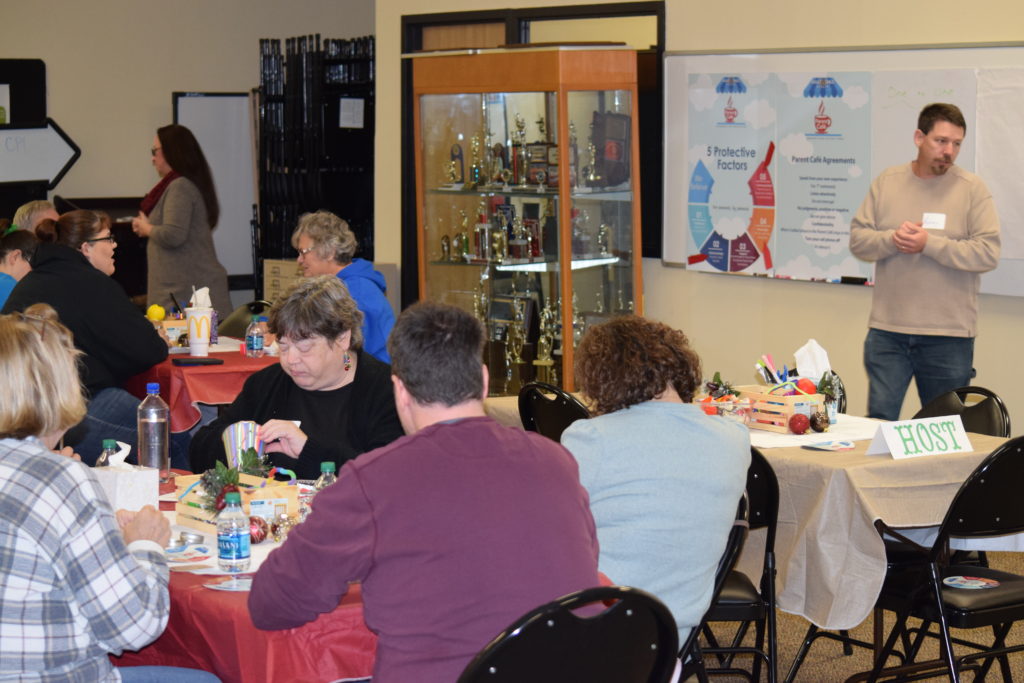 RELATED CONTENT: Helping Foster Kids Take On School: Therapeutic Foster Care's Educational Advocate
How Parent Cafe got started
Be Strong Families, an organization based in Chicago, started Parent Café in 2007 to educate families on the Strengthening Families Protective Factors, which is a strength-based system for families and caregivers that aims to keep children safe and families strong.
Adult & Child Health recently adopted the program, which meets twice monthly. The next meeting is scheduled for 5:45 p.m. Jan. 24 at Earlywood Education Center, 500 Earlywood Drive, Franklin.
Michele Neumann, Adult & Child's Parent Café coordinator, said about 80 percent of a typical Parent Café meeting consists of foster parents, but adds that all parents are welcome to attend.
"The most rewarding thing about Parent Café is seeing the parents really enjoy themselves with their interaction with one another and the laughter that goes along with that connection," Neumann said. "The most challenging part is getting parents to come. Once they get there, they enjoy themselves, and several have become regular attendees."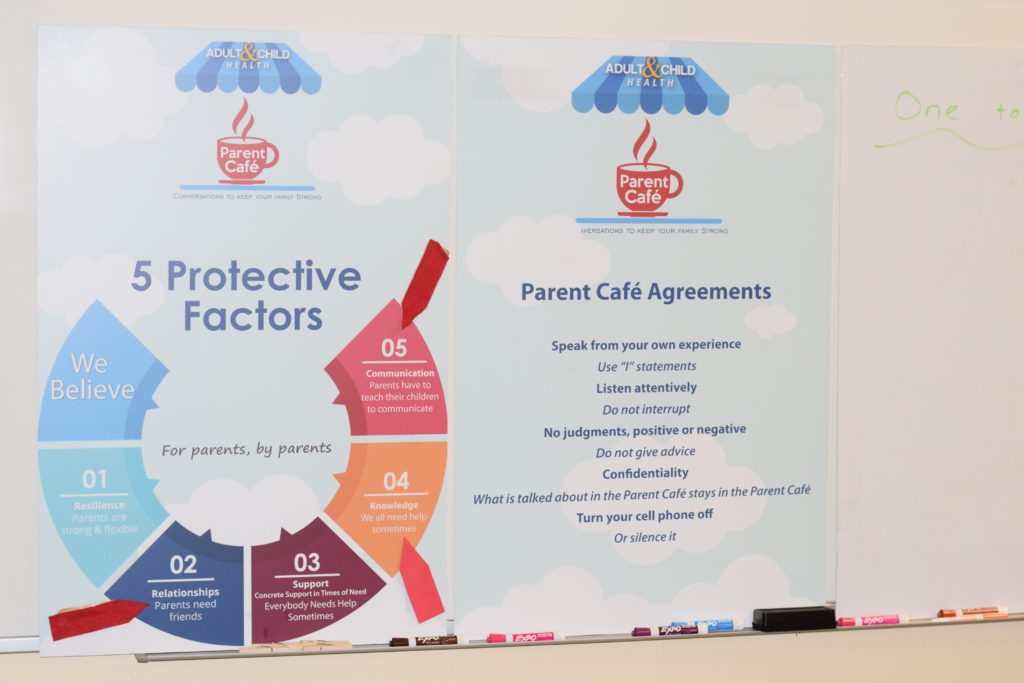 What happens at Parent Cafe meetings?
At the Dec. 14 meeting, which Burton and Neumann described as typical, the parents trickled in with their children around 5:45 p.m. for a dinner that included ham, mac & cheese, mashed potatoes with gravy and Hawaiian rolls and various cupcakes and pies for dessert.
Once they finished eating, the kids retreated to a play room (supervised) while the parents convened in a nearby classroom. Each table included informational material, chocolate, Kleenex, crayons and pen and paper, along with Christmas decorations.
On the dry-erase board, the Parent Café's "5 Protective Factors" and the Parent Café agreements (pictured above) were affixed to the board, along with five more boards.
Each meeting has a theme. This meeting's theme was, "Giving the Greatest Gift: Building Strong Relationships with our Children."
Burton, along with co-presenter Charity Behrmann, discussed the ground rules, then the parents broke up into pairs. One person talked for 2 minutes, 30 seconds, and the other person wasn't permitted to speak during that time.
RELATED CONTENT: Find out how Adult & Child Health's Youth Development Team works with teens on solving the problems they're facing.
The speaking parents introduced themselves, described their families and the time they felt most connected to their children. Then, they reversed roles.
"It's rewarding being able to see parents/caregivers come in and enjoy themselves while building relationships and learning that they are not the only parents having issues or struggling with their child's needs," said Burton, who's also a parent. "I get to see the look on a person's face when they realize that they aren't really a bad parent."
Café conversation
From there, the "café conversation" portion begins. Parents talk with each other in three rounds, 15 minutes per round. Some parents switch tables as the topics change, so they hear viewpoints from a wider variety of parents. 
They base these rounds on three of the 5 Protective Factors (pictured above). This time, they chatted about Relationships, Knowledge and Communication, respectively. Parents shared parenting practices, and relatability became a general theme.
At the end, each parent-participant shared their names and one word that summed up their experience at this meeting. Some of the words parents shared included "enlighten," "socialization," "appreciation," "respectful," "flexible," "mindful" and "calmness."
While Neumann and Burton are generally happy with the current Parent Café setup, both said they would like to see the local program grow and expand.
"My goal for the Parent Café would be that it could be run completely and independently by parents and that we can build additional parent teams (hosts) to offer more opportunities and specific types of cafes in the community," Neumann said. "There are Dad Cafes and Teen Cafes that I believe could really help the community. With the materials we have, we could design a café to meet any particular type of group that can use the Be Strong Families model as cafes."
Upcoming Parent Café schedule
(subject to change)
March 16, 5:30 to 7:30 p.m. (dinner served at 5 p.m.), Paul Hadley Middle School, 200 W. Carlisle St., Mooresville (enter through Door 14).
March 27, 6:30 to 8:30 p.m. (dinner served at 5:45 p.m.), Earlywood Education Center, 500 Earlywood Drive, Franklin. Theme: Making Responsible Choices.
April 6, 10 a.m. to noon, Edinburgh Community Center, 100 E. Main Cross St., Edinburgh. Theme: Building a Strong Family.
April 13, 5:30 to 7:30 p.m. (dinner served at 5:30 p.m.), Paul Hadley Middle School, Mooresville.
April 20, 10 a.m. to noon, Mooresville Lions Club Meeting Den, 4 E. Harrison St., Mooresville.
April 24, 6:30 to 8:30 p.m. (dinner served at 5:45 p.m.), Earlywood Education Center, Franklin. Theme: Building a Strong Family.
May 4, 10 a.m. to noon, Greenwood Public Library, 310 S. Meridian St., Greenwood. Theme: Having a Safe Summer … Keeping my Cool!
May 22: 6:30 to 8:30 p.m. (dinner served at 5:45 p.m.), Earlywood Education Center, Franklin. Theme: Having a Safe Summer … Keeping my Cool!
To RSVP to a Parent Cafe meeting or for more information about Parent Cafe, contact Michele Neumann, Parent Cafe coordinator, at 317-619-2657 or mneumann@adultandchild.org.
This is an updated version of an article that was originally published Jan. 17, 2019.