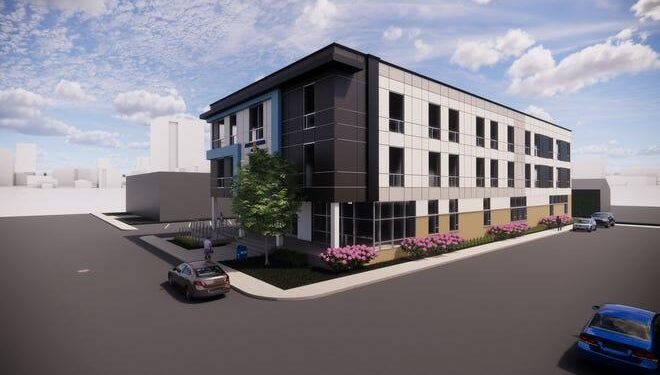 Local healthcare provider Adult & Child Health, commercial real estate services and investment management company Colliers, healthcare real estate company Innovcare, and national real estate development company TWG are teaming up to redevelop Meridian Street in Indianapolis with a project investment of over $75 million.
The master redevelopment project encompasses the reconstruction of six buildings along the North Meridian Corridor, including 1840 N Meridian, 1839 N Illinois St., 1835 N Meridian, 1829 N Meridian, 1827 N Meridian, 1815 N Meridian, and 1819 N Meridian.
Together, Adult & Child Health, Colliers, Innovcare and TWG are creating a much-needed master development to utilize distressed existing assets and convert buildings to highly functional communal areas including primary care, mental health services, and affordable housing to serve local Indianapolis residents.
These projects will revitalize the historic Herron-Morton Place, the Near Northside, the Old Northside, and the Meridian Highland neighborhoods. All of the communities are located within a federal Opportunity Zone and near the IndyGo Red Line, providing patients and residents easy transportation throughout downtown Indianapolis. This master redevelopment plan is made possible through support from the City of Indianapolis, as the City also works to improve the North Meridian Street Corridor. The project is within the "Medical District" boundaries defined by Indiana University Health Methodist. Innovcare will pay real estate property taxes to further the redevelopment and investment of the Meridian corridor.
With Indiana ranking among the highest states where adults and children experience an increased prevalence of mental illness and lower access to care, mental health services are needed more than ever. Rents are rising dramatically, and healthcare companies are struggling to find competitive market pricing and provide care to the underserved community near Meridian Street.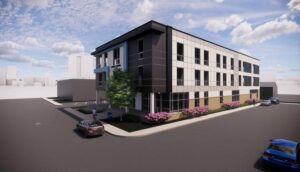 By working in collaboration with Innovcare, Adult & Child Health was able to negotiate a long-term lease and will be relocating to 1840 N Meridian. This includes a complete reconstruction of the 40,000 square foot building and parking area that was previously owned by Indianapolis Public Schools (IPS) and has been vacant for over seven years. Once completed, the medical office building and residential project will address surrounding healthcare needs and combat social determinants of health prevalent in the area, including mental illness, accessibility, etc.
"Access to timely, affordable, high-quality healthcare and social services, particularly for persons with limited means, are vital for a healthy, diverse community" said Allen Brown, CEO of Adult & Child Health. "Compared to our previous locations, the 1840 N Meridian project with Colliers, Innovcare, and TWG represents a new beginning for A&C in downtown Indianapolis. We're excited for the change and fully expect better care and better outcomes for downtown residents with the launch of our new health center."
Colliers has been instrumental as Adult & Child Health's real estate advisor to develop a comprehensive master facilities plan and align the real estate strategy with unique opportunities in the market. Colliers' Occupier Services and Project Management Teams worked with Adult & Child Health to capitalize on a transformation master facilities plan and leverage consolidation opportunities to ultimately increase access to critical community services and deliver meaningful operational savings to foster continued expansion of Adult & Child Health programs. As part of the master plan, Colliers helped Adult & Child sell two existing assets at 603 E Washington St. and 222 E Ohio St. in downtown Indianapolis, which are slated for future redevelopment, in tandem with advising them on the lease negotiations for 1840 N. Meridian St.
"This project presented a unique opportunity for Adult & Child Health to consolidate their existing footprint, but also upgrade their facilities and improve access to the community for the critical community services they provide. The unique community-minded vision of the developers presented a rare opportunity for Adult & Child Health to augment and enhance the positive community impact of the project in partnership with Innovcare and TWG's redevelopment plans for the neighborhood," said Andrew Urban, Senior Vice President of Occupier Services at Colliers.
"This project serves as a catalyst for economic growth and development for this historic neighborhood," said Innovcare Founder and President Tyson Chastain. "We are thrilled to be involved in this project to revitalize the Meridian streetscape and provide local residents and patients with the housing and healthcare services they need right at their fingertips. Being a small part of this big development change is an honor and a privilege, and we hope this new community development continues to offer safe, high-quality spaces for all Hoosiers. This project is a clear example of how real estate development companies can be successful with cost-effective solutions for nonprofit institutions in an inflationary economy."
Indianapolis-based TWG has acquired four vacant buildings – 1835 N Meridian, 1815 N Meridian, 1819 N Meridian, and 1829 N Meridian – and plans to redevelop the buildings into a housing project with affordable, workforce and market-rate components. The building will include 166 multifamily units, including 1,500 square feet of commercial and retail space.
"There's a high demand for affordable housing and redevelopment along Meridian Street, and TWG is committed to providing these safe and budget-friendly living spaces for local residents and patients of Adult & Child Health," said TWG CEO and Co-Founder Tony Knoble. "By working together, we are able to achieve something greater for the growing community."
# # #
About Adult & Child Health
Adult & Child Health is an accredited nonprofit primary care, behavioral health, and social services provider with multiple locations in central Indiana. We strive for caring communities, where every child, adult and family have the opportunities they need to live healthy, happy, productive lives. Learn more at www.adultandchild.org.
About Colliers 
Colliers (NASDAQ, TSX: CIGI) is a leading diversified professional services and investment management company. With operations in 63 countries, our 17,000 enterprising professionals work collaboratively to provide expert real estate and investment advice to clients. For more than 27 years, our experienced leadership with significant inside ownership has delivered compound annual investment returns of 20% for shareholders. With annual revenues of $4.5 billion and $81 billion of assets under management, Colliers maximizes the potential of property and real assets to accelerate the success of our clients, our investors, and our people. Learn more at corporate.colliers.com, Twitter @Colliers or LinkedIn.
About Innovcare
Innovcare is a healthcare real estate company that provides innovative solutions for healthcare companies needing expertise in real estate development, consulting, brokerage, property management, and many other fields. Innovcare achieves measurable outcomes with solutions that are quick, cost-efficient, and innovative. To learn more, please visit thinkinnovcare.com.
About TWG
Founded in 2007 and headquartered in Indianapolis, TWG is a fully integrated real estate development company specializing in commercial, market rate, affordable and senior housing developments across the country. With a focus on development, financing, design, construction and management, TWG has transacted over $2 billion in development costs and over 10,000 units nationwide. Committed to building strong foundations with its team, equity partners and the communities it serves, TWG knows that Together, We Grow. Learn more at www.twgdev.com.