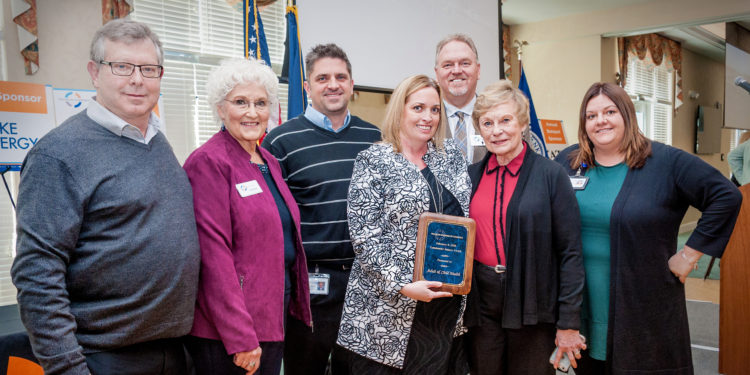 Adult and Child Health was honored to be chosen for the Franklin Chamber of Commerce Community Impact Award during their February 8, 2018 Awards Banquet. Each year, this award highlights a business organization whose success positively impacts the community's economy and the quality of life for Franklin residents.
As a nonprofit provider of primary care, child welfare, mental health, and addictions services, A&C's programs contribute to the overall health of Franklin residents. The organization participates in a wide range of community health and wellness initiatives such as The Partnership for a Healthier Johnson County, the United Way "No Place to Call Home" program, and the Johnson County Systems of Care Collaborative. Adult & Child's clinical teams based in Franklin schools provide prevention, early intervention, and mental health services to thousands of students each year. Social services such as A&C's therapeutic foster care program, family preservation program, and services for court-ordered youth bring stability and opportunities for recovery to youth involved with the child welfare and/or the judicial system. In 2017 A&C also expanded mental health, substance use, and psychiatric services for adults creating improved access and greater options for Franklin needing services.
Venturing into the arena of primary care in 2016, Adult and Child chose to build one of their two first-ever family medicine clinics in Franklin's Northwood Plaza. In addition to supporting local business growth, the Northwood clinic increases access to affordable medical care for all Franklin residents, especially low-income and uninsured individuals, including those experiencing both behavioral health and physical health care needs.
As Chamber member and local employer, Adult and Child's health and social services expansion has brought significant job growth and commerce to the community. With over 100 staff employed in the Franklin area schools and clinics, A&C's Franklin based staff account for $5,693,885 in annual salaries and benefits in Franklin's economy.
"It's a pleasure to have been chosen for this award, said Tara Elsner, Director of Outpatient Services. We're dedicated to continuing to grow the footprint we have in Franklin and be there when people need us".
Adult & Child Health is a leading provider of behavioral health, child welfare, and primary care services in central Indiana. For more information about Adult & Child, please contact Dan Arens, Chief Strategy Officer, at 317-882-5122 or darens@adultandchild.org.