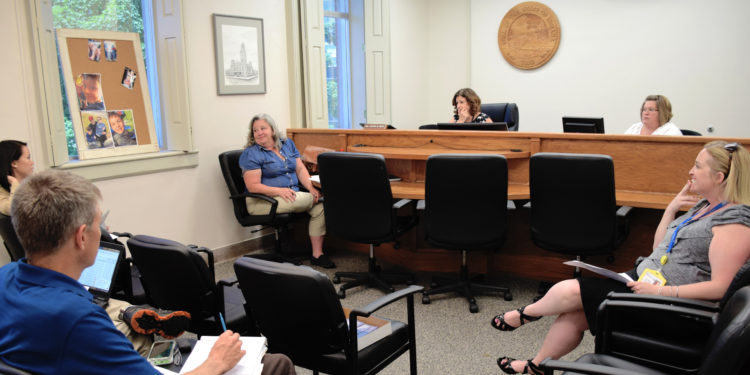 Adult & Child Health, a central Indiana behavioral health, primary care and social services provider, has expanded community-based addiction services in collaboration with local criminal justice systems. In Marion and Bartholomew counties, Adult & Child increased capacity to better serve court-involved persons and families that the Indiana opioid crisis has impacted.
Adult & Child joined with the Marion County Superior Court Probation Department Opiate Supervision Project Team in 2017 to help formerly jailed opiate users get clean and restart their lives. As a treatment provider, Adult & Child's role involves working with probation and courts to "wrap" opiate users with services and breaking the addiction cycle.
"Most of the folks we're seeing don't belong in prison," said Tara Elsner, Adult & Child's Director of Outpatient and Addiction Services. "They're ill and need help. We help them get the support they need to succeed in the community."
Drug Free Marion County recently recognized Elsner with its Community Service Award.
In Bartholomew County, Adult & Child works within the newly implemented Family Problem-Solving Court, which aims to reunify families torn apart by drug abuse. Magistrate Heather Mollo began this initiative after witnessing her termination of parental rights caseload triple due to the opioid crisis and its effects.
This specialized accountability court, only the fifth of its kind in Indiana, requires parents who are convicted of drug crimes to access addiction services treatment and achieve sobriety. The court maintains oversight and requires a strong commitment from parents in weekly meetings with Judge Mollo, representatives from the Department of Child Services, Court Appointed Special Advocates, and Adult & Child.
"[Adult & Child was] was our first choice when we were thinking of what was needed for services," Mollo said. "What we're satisfied with from A&C is the holistic approach. Things are not so siloed. It's the wraparound approach that gets our parents to the point of sobriety."
As a comprehensive, integrated health and social services provider, Adult & Child Health offers a wide range of services to people who are dealing with drug abuse and dependence. In addition to mental health and addiction services, Adult & Child also offers clinic and community-based primary care, medication-assisted therapy, job coaching, supportive housing, and child welfare services.