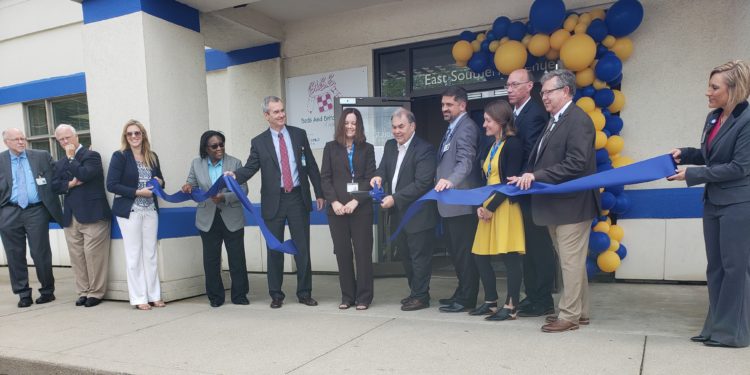 The forecast rain showers on the morning of May 23 ended early on Indianapolis' near southside, enabling attendees at Adult & Child Health's ribbon-cutting event to celebrate the Garfield Park clinic opening.
It's fair to wonder if someone high above, who spent a good chunk of his life serving medical needs on that site, had something to do with the skies clearing that morning.
A&C owned and operated the clinic since it took over the 234 E. Southern Ave. facility on April 1. But even before Franciscan operated the facility, it had served the Garfield Park neighborhood's medical needs for decades.
RELATED CONTENT: Learn more about Adult & Child Health's Mission, Vision and Values
Before it was a primary care clinic
Hawkins Pharmacy sat at the location at the corner of Madison and Southern avenues, just south of Manual High School, for over 40 years. Price "Tug" Hawkins owned and operated the pharmacy at that location from 1954 until he retired in 1995.
Hawkins' son, Barry, who still owns the property, said his father would be proud to see the facility is still providing medical services. The elder Hawkins passed away in 2016.
"It would mean the world to him," Barry Hawkins said. "He lived and grew up in that store. I told him I'd do everything within my power to make sure that facility benefits people."
Hawkins couldn't remember for certain when Franciscan moved into the facility, but he said it was between 1996 and 1998. Franciscan ran a clinic at the location until it transferred ownership and operation to Adult & Child on April 1.
The building houses more than just a primary care clinic. The B.A.B.E. store offers customers baby essentials such as diapers and car seats in exchange for coupons that parents earn by participating in wellness classes. It opened in 2010.
RELATED CONTENT: Adult & Child Health Advances Affordable Housing Through Two Major Development Projects
Hawkins was born into a family of pharmacists. His grandfather opened Hawkins Pharmacy's original location across the street from the current facility in 1941.
"It was where he grew up, and he had gotten to know the area," Hawkins said of his grandfather, also named Tug. "A lot of his customers were so attached to him. He would fill prescriptions for people who couldn't afford it. He was that kind of guy. He just loved helping people, and he enjoyed that."
'We're doing much more'
These days, Adult & Child is still helping people at the clinic. It's the agency's fourth primary care clinic in the Indianapolis area, joining the downtown clinic (222 E. Ohio St.,) the Greenwood area clinic (8320 Madison Ave.) and the Franklin clinic (1860 Northwood Plaza).
At the ribbon-cutting event, Adult & Child CEO Allen Brown emphasized the facility is more than just a primary care clinic, thanks in part to the agency's myriad other services it provides.
"When Adult & Child opens a primary care clinic like this, we're doing much more," Brown said. "We're also a gateway for other types of services. So someone might come here for primary care, but they may need mental health services. They may need addiction services. They may need housing. They may need transportation. They may need jobs. So this program is a door for multiple services."
After the ribbon-cutting, attendees enjoyed hors d'oeuvres and enjoyed a tour of the facility. Among the attendees, which included employees, community partners and other dignitaries, perhaps the most flattering statement came from Dr. Virginia Caine, Marion County Health Department director.
"This is the clinic to beat, and the standard for all community health centers," she said, shortly before the ribbon-cutting.
While Tug Hawkins couldn't be there in person to concur, Barry Hawkins said his father would offer some simple advice if he could.
"Continue the tradition," Hawkins said. "My dad would be extremely happy right now the way this worked out. I hope he's looking down smiling. I'll continue to pursue his wishes."