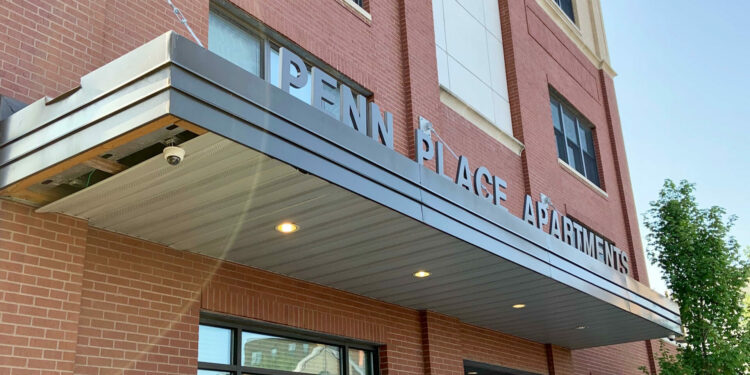 INDIANAPOLIS (Nov. 27, 2019) – Adult & Child Health (A&C) recently implemented an innovative onsite Resident Services Program at Penn Place Apartments, 1415 N. Pennsylvania St., to provide onsite social and behavioral services to supportive housing apartment residents.
The Resident Services Program, which is part of A&C's Supportive Housing Services, began in July and is funded through a grant from the Indiana Division of Mental Health and Addiction (DMHA).
RELATED CONTENT: Adult & Child Health Receives Kendrick Foundation Grant to Expand Behavioral Health Programming in Mooresville Schools
Penn Place Apartments is a 38-unit complex dedicated to serving the chronically homeless and special-needs populations. A&C has full-time staff available at the apartments Monday through Friday, to facilitate residents' access to health care, social services, community resources and educational opportunities, which in turn improves their overall health and wellness.
"By locating access to social services and resources just steps from their home, our belief is that this approach will give individuals the best possible chance for success and assist them in maintaining a stable environment," said Skills Development Specialist Emily Snipes. "Our initial goal has been to establish rapport
with the residents and apartment management team. As we learn more about their individual needs and concerns, we will tailor our services to meet them where they are."
In collaboration with apartment management staff from BWI (Black White Investments), A&C launched the program to reduce health disparities among underserved populations and to increase the residents' engagement in treatment for mental health and co-occurring disorders. A&C has strategically invested in community-based programs like Penn Place to improve outcomes for adults who are often reluctant to seek such services in a traditional setting.
Penn Place is a "Housing First" model, which focuses on quickly moving people who are experiencing homelessness into independent and permanent supportive housing, then continuing to support people with additional services and resources as needed to keep them safe, stable, and housed. "One of the biggest objectives is to assist the individual in not just obtaining housing, but successfully maintaining that residence," Snipes said. "Everyone's needs are different, and our role is to help identify ways that we can assist them in this environment."
A&C has stationed a full-time Skills Development Specialist and a part-time Community Health Worker at Penn Place to help meet the residents' needs. To promote consistent engagement, they have established an incentive store for residents who earn the opportunity to shop at the store by attending a health education class or participating in health and wellness programs.
Adult & Child Health (www.adultandchild.org) strives for caring communities, where every child, adult and family have the opportunities they need to live healthy, happy, productive lives. For more information about Adult & Child Health services, please contact Adam Wire, marketing and communications specialist, at 317-882-5122 or awire@adultandchild.org.
RELATED CONTENT: Why Adult & Child Health is an Ideal Agency to Utilize Medication Assisted Treatment