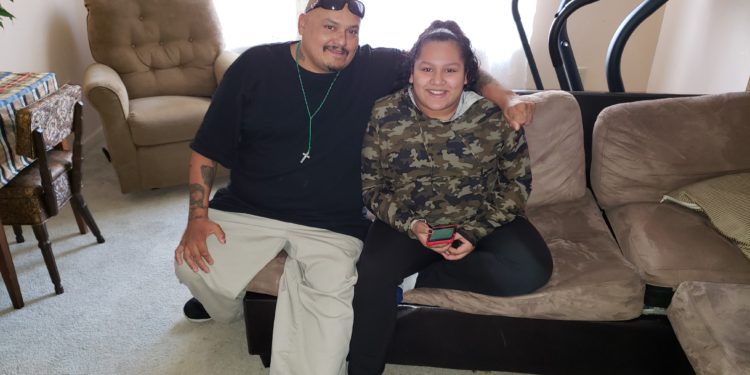 Luis Rios and his daughter, Jenaveve, relax outside the home where Rios' wife, Griselda, lives.
Like lots of folks, Luis Rios has a countdown calendar on his cellphone. The Indianapolis resident received an alert Nov. 20 from the calendar that reminded him how far he's come.
"You have been clean and sober for 13 months," it said.
"I would have never expected things to be like this," Rios said that day, from his wife's Indy home. "I don't have a job yet, but I'm going step by step, slowly. I'm doing something. My wheels were spinning for a few months. I was sober and clean, but I wasn't doing anything. I developed a lot of patience."
What's Rios doing? He's taking classes to become a recovery coach. He figures his firsthand addiction experience, and his recovery through the Blue Triangle program, which Adult & Child Health supports, helps him relate to others who are battling addiction or homelessness. He's dealt with both.
"I lost my family," Rios said of his time on the streets. "The most painful part was I lost my daughter. She would hang up the phone, pretending the line cut out. That really really hurt. I've got them both back now (wife, Griselda, and 11-year-old daughter, Jenaveve). I've got the respect of them. Instead of focusing on relapsing, I'm focusing on helping others."
RELATED CONTENT: Learn more about Adult & Child Health's Homeless & Housing Resource Program
How Blue Triangle battles the homeless problem
The program is designed to provide safety, security and comprehensive health care for people who are experiencing homelessness, and help them rebuild their lives. Partners in Housing owns the building, Adult & Child Health and Anthem provide staffing to the tenants, and the City of Indianapolis pays for their room and board.
Rios discovered the program in September 2017, when he decided it was time to get help. He stayed in the house for two days, then entered Valle Vista Hospital in Greenwood for a week of treatment. He then returned to the Blue Triangle, where he has lived ever since.
Rios and the other residents can access a food pantry, transportation information and other resources at Blue Triangle.
Rios said Amanda Wills of Anthem placed him on the list for Blue Triangle housing, and he still speaks with her once every couple of days. He also works with Adrianne Harris at Adult & Child Health, his outpatient therapist for addictions treatment. She meets with Rios twice monthly to make sure he's following his treatment plan goals and maintaining his recovery.
"Luis is a huge success," Harris said. "After opening up about where he has been and what he has gone through, he works hard every day. I am so proud of him for following pursuit on becoming a certified recovery coach. Luis' desire to give back to others in need is a true testimony of the hard work that he has put into himself and his program."
(video courtesy of Anthem)
What's next for Rios
He currently spends a little over half his time at his wife Griselda's house, and the rest of the time at Blue Triangle. He recently received a scholarship to become a certified recovery coach.
Rios is keeping his employment options open, but mentioned he'd like to work in an emergency room at a hospital. Several local hospitals have positions where employees inform overdose patients or other drug-related patients about resources such as Blue Triangle.
"I've always been the type to help people, even in my past days," he said. "It hurts to see a lot of people and a lot of friends that are in the past, and they're still stuck, and there's nobody to help out. I want to help them. I want to help anybody that needs it."
Harris said Rios is following through on all of the program's requirements and reports no challenges with his recover. She believes Rios serves as a great example of what can happen when clients utilize Adult & Child Health's resources during their recovery paths.
"He is a living testimony of what can happen if you focus and work through hardships," she said of Rios. "He is living proof that recovery IS possible."
RELATED CONTENT: Learn more about Adult & Child Health's Transitional Living Program.