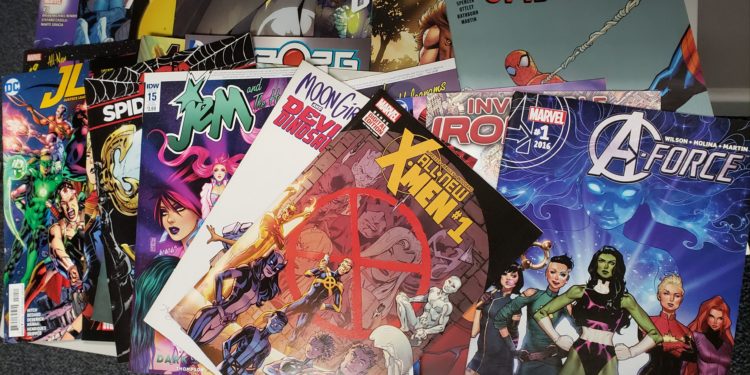 Adult & Child Health clients occasionally visit the ninth floor at the agency's 603 E. Washington St. office. It's one of three floors in the office that houses A&C's Family Services.
Kids and their parents or guardians often enter the ninth floor because they're dealing with some sort of stressful situation. Clients from Therapeutic Foster Care, Home-Based, School-Based and Wraparound services occasionally visit. So do Parent-Child Interaction Therapy clients.
When they enter the lobby, office coordinator Dale Kinney is often there to greet them. Visitors who look closely will notice comic books atop a file cabinet next to Kinney's work area. Even folks who don't collect or read comic books will recognize the names. Spiderman. Batman. X-Men.
It's just a small sample of Kinney's collection, which he says is nearing 70,000. But they're not there for Kinney's amusement. Instead, he hopes they help bring a smile to any of the children who enter our doors.
RELATED CONTENT: How Adult & Child Health and Sony Teamed Up to Make a Patient's Dream Come True
How comic books and posters help
As you enter the ninth-floor doors, you might see children and families in the waiting area. But many don't know this floor serves as a de facto visitation and therapy area. The comic books, Kinney says, are there for the kids to read and enjoy. It's likely the children are dealing with a difficult situation, so he hopes they help diffuse whatever stress the kids who are reading them might be enduring.
"The kids appear to be excited about the comic books, and Dale really engages with them to make them feel included and valued," said Emily Sutter, Team Leader for Support Services-North and Kinney's supervisor. "There is a very welcoming and inclusive feeling for the kids as they're arriving for supervised visits, and it's something they can really look forward to."
"The kids always look at them," Kinney said. "It's rewarding to see the looks on the kids' faces (while they read)."
Help from Hero House Comics
Kinney gets some of the comic books from a nearby shop, Hero House Comics. Kinney's a frequent patron there, and he's become friends with the store's owner, Mike Rittenhouse. He convinced Rittenhouse to donate comic books to Adult & Child Health that are in overstock. Kinney said he gets about 10 new comic books each month.
He doesn't get enough comic books to give away, but posters are a different story. The Owens Group, a public relations firm, supplies posters to Hero House. Kinney takes the extra posters to A&C to give away to the kids and their families, with Rittenhouse's blessing.
"They're all thrilled," Kinney said of the kids' reaction to the posters. "The little guys, age 6 to 10, they really love it. Sometimes, they ask if they can have one for their brother or sister. They're always well-received, even by the adults."
The posters usually follow a similar theme to the comic books, but they're often more movie-based. Kinney recently gave away several "Solo" posters, from "Solo: A Star Wars Story."
"I feel inspired by Dale's generosity and his desire to share his love of comic books with the children," Sutter said. "I feel this gets to the heart of his character and his true desire to help our clients in his own way. For Dale, this is not just a place to have therapy and for children to visit their families, but a place to have fun and inspire children to explore their interests, such as comic books."
RELATED CONTENT: Why Parent Cafe is the perfect place to address parental concerns
There are lessons here, too
Kinney doesn't just lay out comic books and hand out posters without any purpose. He selects the comic books carefully that he makes available to the kids.
"I want to make sure the characters in the comic books are good role models, and they're not just white middle-aged male role models," Kinney said. "Stan Lee (the late comic book writer/editor/publisher) was a big advocate of that."
He ensures there are plenty of female characters in the comic books he brings to the office, including Jem and the Holograms, Moon Girl and Devil Dinosaur, among others. Although plenty of comic books address serious issues in children's lives, he doesn't bring those into the office. "That's stuff we already talk about here," Kinney said.
Kinney started giving away the posters and books last June. He said he hopes to continue for the foreseeable future. In the meantime, he just wants the items to bring smiles to the kids.
RELATED CONTENT: How Adult & Child Health is helping foster kids take on school
The artwork doesn't end there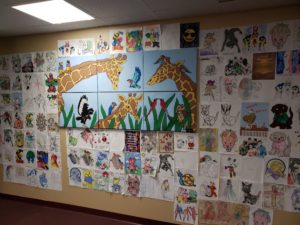 The 9th floor lobby walls include plenty of artwork the kids produce when they visit. Cutouts and crayon-colored images cover the walls.
Kinney creates a monthly themed activity for the kids to do during their visits. For March, kids color shamrocks or decorate Mardi Gras masks cut out of paper plates. "That's the real story here," Kinney said.
"The foster parents are impressed with Dale's efforts and the children's parents are grateful for the changes and improvements directed at making the lobby/visitation site more kid-friendly," Sutter said. "Dale has made tremendous effort to make this space/lobby more inviting, colorful, and kid-friendly. The children look forward to seeing their work displayed for all to see."
Although these gestures may not seem big to Kinney, they matter in a big way for the many children who walk through our doors. Generous efforts such as this remind us that each team member plays a part in serving our mission daily.