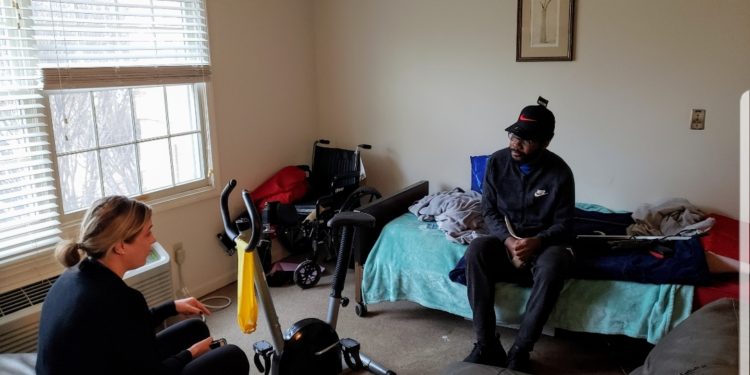 Jeffery Dixon experienced the hard side of life. Estranged from his family and experiencing multiple sclerosis and the effects of a recent stroke, he was living at Wheeler Mission in Indianapolis when he arrived as a patient at Adult & Child Health. That's where a few employees teamed up to make his dreams come true.
He initially worked with Adult & Child's Adult Transitional Living program, but he was constantly falling due to complications from the MS and the stroke. From there, A&C Community Health Worker Ashley Brown worked closely with Dixon. She led the necessary efforts to move him into an assisted living facility, but at age 29, Dixon couldn't quite relate with the rest of the facility's clientele, most of which was 55 years old or older.
"I had just met with Jeffery, and he mentioned all he wanted for his place was a (Sony) PlayStation 4," Brown said. "He had been depressed, and I asked him, 'What's something that could make your day go by?' Sitting in a small room, he's 29 years old … that has to be devastating, to be sitting in that room and doing nothing."
RELATED CONTENT: How Blue Triangle helped a homeless man recover
How Dixon got his PlayStation 4
At the next Integrated Care staff meeting, Brown mentioned Dixon's PlayStation wish to Robbie Schmidt, a licensed clinical social worker. Schmidt then contacted another coworker, office coordinator Reba Chapple, about the situation at hand. Chapple personally knew a Sony employee and thought he could help. When Schmidt reached out to Sony and explained the story, the company agreed to provide Dixon with a PlayStation4 and a 43-inch TV.
"It was an amazing feeling to have helped (even in such a small way) with something that made such a huge impact," Chapple said, adding that Sony provided the TV and PlayStation just two days after approving the request. "Our patients and clients are our top priority, and this just shows how much we mean that."
After staff laid the groundwork to make Dixon's wish a reality, A&C staff and Sony scheduled an installation for November. Brown sneaked Dixon away, hoping to surprise him. That allowed the folks at Sony an opportunity to hook up the TV and the game console before he returned.
"She took me to get something to eat, we came back, and that was there," Dixon said of the TV and console. "I was real excited. That was all I needed, and she got that."
RELATED CONTENT: See how Adult & Child Health's Transitional Living program helps its clients
Dixon still has work to do
There's only one problem that remains. The stroke rendered Dixon with limited mobility in his right hand. He's currently undergoing occupational therapy to regain use of the hand, and he hopes to be able to play his video games by this time next year.
The multiple sclerosis forces Dixon to walk with a cane, although he can walk a few feet unassisted. He has a wheelchair, but doesn't use it. He says he hasn't fallen since he moved into the assisted living facility.
"Jeffery is very prideful, and I would be just like him in his situation," Brown said. "I would rather take a fall than be in a wheelchair, and I think he's taken the right approach. Once you start utilizing something like that, it's easy just to not work out and get stronger. With multiple sclerosis, you just don't know how the symptoms are going to flare."
In the meantime, he's grateful for Brown, Chapple, Lateryae Wilson, his skills development specialist at Adult & Child, and everyone else who has helped him along the way.
"She's my guardian angel," Dixon said of Brown. "I have real good people in my life … good people in my corner. I never had that. I'm in a good place right now."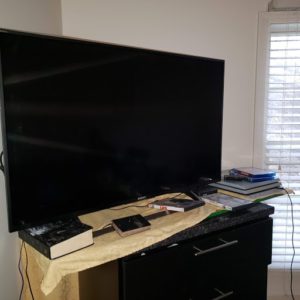 Adult & Child helped Dixon in other ways, too
Dixon got more than a PlayStation and a TV out of his relationship with Adult & Child Health.
Brown's hometown church made a monetary donation that helped Dixon purchase items like a laundry basket, trash can, trash bags, washcloths, hygiene products, socks, underwear and other basic necessities. He also received a couch and bed through donations.
"Coming from Wheeler Mission to ATL, he didn't really have anything," Brown said. "He had a few totes of clothes and a small exercise bike. When he went into assisted living, he had to provide his own things."
Dixon worked with Adult & Child Health's Team Zenith as well, beginning shortly after he became a client in June, but has since been closed out of the program. That means he doesn't need that type of help anymore
RELATED CONTENT: Learn more about Team Zenith and how it works with clients who deal with mental illness.
He's not done yet
Dixon has big plans moving forward. He's now receiving his occupational therapy for the multiple sclerosis and stroke through the assisted living facility. He hopes to begin taking classes toward his GED once he's physically capable to attend. Dixon added he wants to utilize Adult & Child Health's Job Links program once he's ready to enter the workforce.
"I just want to really strengthen my right side, and then get my high school diploma," Dixon said.