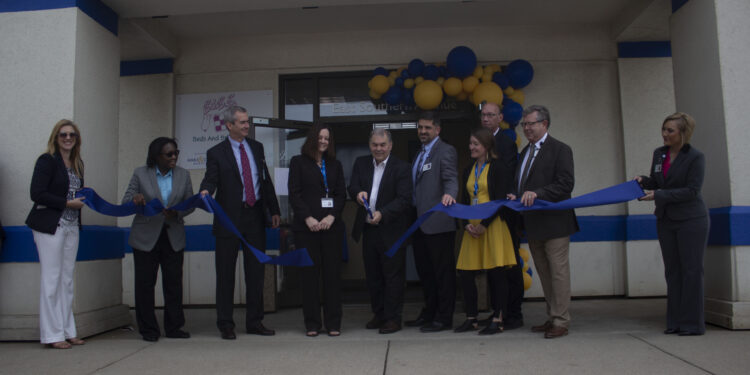 INDIANAPOLIS (Sept. 25, 2019) – Adult & Child Health (A&C), a nonprofit health care and social services organization, recently celebrated the opening of its Garfield Park primary care clinic. Located at 234 E. Southern Avenue, the clinic was established in 1980 by Franciscan Health to serve low-income persons. Building on the clinic's charitable 30-year history and recognizing A&C's unique capabilities as both an FQHC Look-A-Like and community mental health provider, Franciscan Health and Adult and Child Health coordinated efforts to transfer the clinic to Adult and Child Health. The Garfield Park clinic becomes A&C's 4th primary care clinic for underserved persons in central Indiana.
RELATED CONTENT: Garfield Park Primary Care Clinic Continues Tradition on Indy's Southside.
Several health care leaders joined Adult and Child Health in the ribbon-cutting ceremony. In addition to comments from Adult and Child (A&C) leadership
thanking partners and community stakeholders, distinguished guests offering comments in support of the clinic included Dr. James Callaghan, CEO of Franciscan Health; Terry Cook, Assistant Director of Indiana Division of Mental Health and Addiction; and Dr. Virginia Caine, Director, Marion County Public Health Department.
With the Garfield Park site, A&C continues the approach of providing family medicine, behavioral health, and linkage to needed social services all from one location. "I've been here a few years and what drew me first to Adult and Child was the vision for whole health care. We've been striving to provide integrated care and this clinic and community will move us even more in that direction" said Chief Medical Officer Dr. Christine Negendank. Through integration, A&C expects better coordination of care and ease of access will lead to better health outcomes for persons served.
RELATED CONTENT: Adult & Child Health Awarded Federal Qualified Health Center Look-a-Like Status.
Adult & Child Health strives for caring communities, where every child, adult and family have the opportunities they need to
live healthy, happy, productive lives. For more information about Adult & Child Health services, please contact Adam Wire, marketing and
communications specialist, at 317-882-5122 or awire@adultandchild.org.