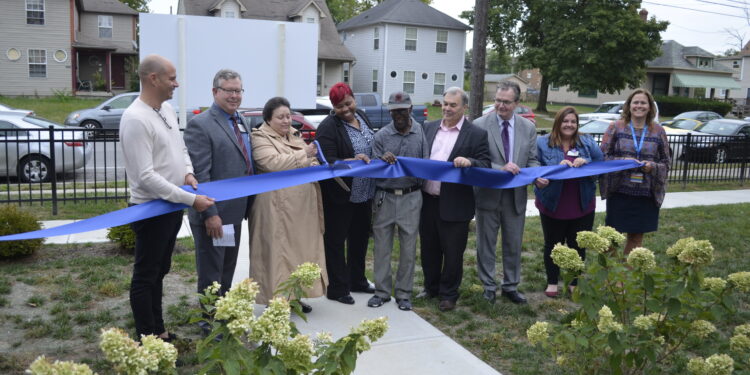 INDIANAPOLIS (Jan. 7, 2020) – Adult & Child Health (A&C) recently celebrated the opening of two supported housing developments intended to increase the availability of affordable housing in Indianapolis.
The renovated Ellis Apartments on Illinois, located at 3472 N. Illinois St., and The Helen Louise Apartments, located at 5822 E. Washington St., opened in 2019 and have since achieved full occupancy.
RELATED CONTENT: Adult & Child Health Embeds Onsite Services for Penn Place Apartments Residents
Through the utilization of low-income housing tax credits and private equity financing, nonprofit Adult and Child Health partnered with Pearl Real Estate Companies to acquire and develop the properties, creating 54 units of modern, affordable housing. A third property under renovation, the Priscilla Apartments at 1309 N. Pennsylvania St., will have 40 units available for lease in March 2020.
Adult and Child Health's permanent supported housing properties are a part of the organization's efforts to improve the lives of persons who are experiencing homelessness. During the 2018-2019 fiscal year, Adult & Child Health served 369 clients who reported homelessness.
In addition to having an affordable, dignified, modernized place to live, residents at the apartments take advantage of A&C whole person health care, including social services that promote recovery and successful independent living.
"It's almost impossible to overcome poverty, depression, or addiction when you're homeless with no income," said Allen Brown, CEO of Adult and Child Health. "Affordable housing is needed for other services to work."
RELATED CONTENT: Adult & Child Health Advances Affordable Housing Through Two Major Development Projects
Several community stakeholders and project partners joined A&C at the ribbon-cutting ceremony and included representatives from the City of Indianapolis, the Indianapolis Housing Agency, and Pearl Real Estate Companies. Residents provided tours of their apartments and shared personal and inspirational stories of how their lives have been enriched as a result of the supported housing program.
For additional information on this project or to learn more about Adult & Child Health, contact Marketing and Communications Specialist Adam Wire at awire@adultandchild.org or (317)882-5122 ext. 0294.