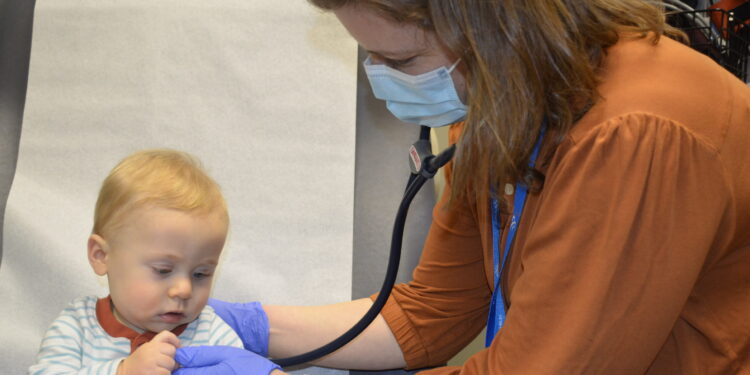 INDIANAPOLIS (March 3, 2021) – Adult & Child Health (A&C), a Federally Qualified Health Center (FQHC) Lookalike, expanded its historically behavioral health-focused services into family medicine by opening four health care clinics in 2016 and 2017.  Due to demand, A&C Health is broadening its focus to include more services to the pediatric population and Marion and Johnson counties.
A&C, operating three primary care clinics in Indianapolis and a fourth clinic in Franklin, recently welcomed Dr. Melissa Collier as Associate Medical Director for Primary Care. Dr. Collier is a board-certified pediatrician who has worked for the CDC and for the Indiana State Department of Health (ISDH). Dr. Collier has extensive experience as a health care leader and a pediatric clinician.
"We're so happy to bring such an experienced pediatrician on board at A&C," said Dan Arens, A&C Chief Operating Officer. "Dr. Collier is amazing with patients of all ages and her vision for pediatrics integrates well with A&C's behavioral health and social service programs we have for youth."
Under Dr. Collier's clinical leadership, A&C Health is accepting new pediatric patients at each of their clinics with additional medical support from a strong team of Advanced Nurse Practitioners.
222 E. Ohio St., Indianapolis: Dr. Melissa Collier and Tracy Moseman, MSN, FNP-C
234 E. Southern Ave., Indianapolis: Dr. Melissa Collier and Jennifer White, MSN, NP
8320 Madison Ave., Indianapolis: Dr. Melissa Collier and Kim Douglas, MSN, FNP-C
1860 Northwood Plaza, Franklin: Dr. Melissa Collier and Hope Lowhorn, MSN, FNP
These recent physician and nursing staff additions reflect A&C's commitment to pediatric care and the organization's focus on providing affordable integrated health care services to persons of all ages. A&C's primary care clinics offer a wide range of services to ensure our clients stay on track for long and healthy lives. In addition to pediatrics, A&C's services include physical health exams, sick visits, chronic conditions, immunizations, medication-assisted treatment for addictions, psychiatric services, on-site lab work, and women's health services.
RELATED CONTENT: Adult & Child Health Awarded $3.9 Million in Grant Funding for Mental Health and Substance Abuse Services Expansion
"Adult & Child Health is excited to be increasing our focus on pediatric care," said Dr. Christine Negendank, A&C Chief Medical Officer. "Children deserve a medical home where care is accessible, family-centered, comprehensive and compassionate. Whole health care for the child benefits not only the patient but also the patient's family and the community at large." 
Adult & Child Health is a community mental health center and Federally Qualified Health Center (FQHC) Lookalike that offers primary care and behavioral health services. We strive for caring communities, where every child, adult and family have the opportunities they need to live healthy, happy, productive lives. For more information about Adult & Child Health programs, please contact Adam Wire, Marketing and Communications Specialist, at 317-882-5122.