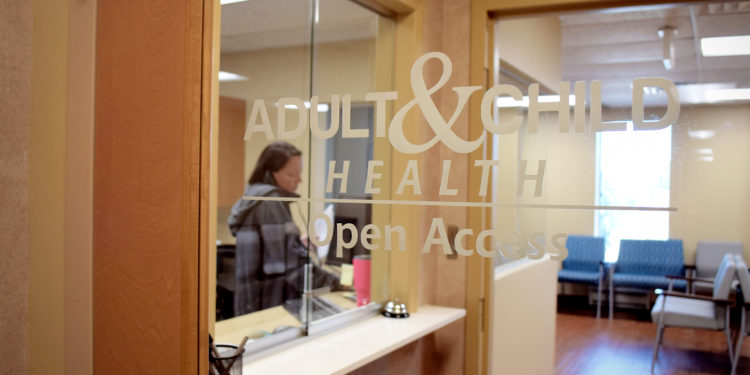 You have mental illness and it's time to get help. Your research led you here, dialing the number to the Adult & Child Health main line. The number on the screen stares back at you. Pressing "send" feels like stepping off a high dive, anxiety fills your senses. Someone answers the phone, you give a stumbling explanation about what mental health services you think you need, and the person on the other end of the line transfers you to an access screener.
"This is Katie, how can I help you?"
As an Open Access Screener, Katie McClelland's goal is to make sure potential clients fit into A&C's services. This helps to ensure they don't have to turn people away for mental health services. They also answer questions, give information, and prepare a client chart that's waiting for them when they come in.
To Katie, it's vitally important to also offer alternate community resources to clients who don't fit A&C's services.
"I have had many people thank me tremendously for this and explain to me that when they call other places they've just been told 'we don't offer that' and then quickly rush them off the phone," Katie said. "People really appreciate when you take the time to talk with them and really help, even if it means referring to another agency for assistance."
Nerves raging, you stumble on your words, asking questions and giving answers, but Katie speaks soothingly, reminding you there are no commitments and you can come in whenever you're ready. She ends the call saying, "I'm really glad that you called today, and please call me back if you have any questions or concerns about anything at all."
A friend drops you off at the front doors of 8404 Siear Terrace, the site of the clinic. You take a deep breath and follow the signs to Open Access. Second floor, down the hall, through a glass door. Floor General Melanie Owens smiles at you over the reception desk. She pulls up the chart Katie created during your call. Forms and papers in hand, you sit down in the waiting area with a pen and start scrawling out your home address.
"There are a lot of moving pieces, and it changes minute by minute," said Melanie, who's in charge of making sure the whole department runs smoothly and effectively. All those moving pieces? It's her job to arrange them into a complete puzzle. Her daily duties involve managing the schedules of her team and filling all open appointments as new clients filter in for the day. "There are a certain amount of spots based on how many clinicians are here," she said. "And it's different every day."
Since Open Access by virtue of its name includes walk-in appointments, you never know who will visit on any given day. For the most part, no one schedules appointments until a patient comes through the door looking for services.
The position can be challenging because of the limited number of intake spots. There's no way to know how many people will come in for mental health services. The only scheduled appointments are for people who are discharged from psychiatric hospital stays. In theory, this is provides a smooth transition from the hospital environment into stable relationship with a service provider. However, these preferred appointments rarely show up.
"When we have a no-show, I quickly fill that spot with a client that walked through the door looking for services," Melanie said. Sometimes it's a two-day process because the clinicians schedules have already filled for the day, "but I encourage them to stay and fill out their paperwork and then the next time they come in, I put those clients in ahead of others who haven't been here before."
The difficulty of coordination and triage ebbs and flows depending on various circumstances. Fridays at 8404 Siear Terrace Open Access are often busiest, because clinicians who are based in other locations will come in to assess clients. Some days, clinicians from the 8320 Madison Ave. office will offer their canceled appointment times to help with intake. Melanie oversees the whole chaotic enterprise.
"People do tend to get stressed when they have to help me out, but I don't mind it," said Melanie. "I just like helping people. When things pop up, I like to jump in."
For registration, you're taken back to a small office where a registrar combs through your Clinical History Form, inputting your information into the computer system. She asks a few more questions, and schedules you for an appointment with Anders Kilmark.
Anders Kilmark is the lead clinician at 8404 Access. His role is to spend time digging deep into the needs of these new clients and connect them to the mental health services that are best suited for their goals. He operates both the front line and oversees the department, taking his role as an advocate for his coworkers seriously. But in his intake role, he needs to be ready for anything.
Melanie and the registrars consider a clinician's credentials when assigning clients, but there is still a wide range of cases that could wind up in their office, from ADD to addiction, from DCS referrals to schizophrenia.
Anders spends an hour with you, truly trying to understand the struggles you've had recently. He says he knows a therapist at A&C's location across the street who will be perfect for you. A little flicker of hope ignites in your chest.
Matching clients to teams is a scientific skill, but also an art. Clinicians need to remain thoroughly informed on the services and evolutions of each team to make the most informed decisions.
"Part of what we do is educating ourselves on the agency itself, knowing various services, what issues and demographics are appropriate, what barriers disqualify," Anders said. But each case is unique and there are no formulas for success, only patterns. Sometimes, A&C creates new patterns to confront unique challenges. Anders offered up a story of a suicidal teen with trauma associated with hospitalization and the multi-team, multi-layered approach they created to fit her perfectly.
The day of your appointment, the friend who promised you a ride doesn't show. You wait on your porch as the minutes tick by, wondering if following this path is even worth it. You wonder if you're even worth helping. You wonder if help like this is even meant for people like you, without a car, without a paycheck, without a direction.
The next day, you get a call from James Reid.
"Engagement Specialists deal with no-shows." Tucked back in the corner of 8404 Siear Terrace next to the Call Center, the Engagement Specialists seem to be the black sheep of Access. They don't necessarily fit in with the other positions. But their role is vital to the organization's health, and arguably, to the most vulnerable clients' health as well.
After a client misses an appointment, James will make a call. His job is to find out why they couldn't make it, and addressing barriers that are preventing a client from getting care. Transportation issues are common, prompting James to often discuss Medicab & carpooling.
When a client misses multiple appointments, pressure mounts to close their chart. But it's the the Engagement Specialist's job to find the true reasons for the absences. Working in conjunction with a client's providers, they consider each case individually and make decisions based on true needs.
"Some people have high suicidal ideation or are going through the ringer with health issues. Those sorts of clients, we tend to give a lot more leeway to. We don't want to close them out and not be there when they need us most," James said.
As a former Call Center employee who dealt with this issue at a superficial level, James notes that being an Engagement Specialist helps him see another side of the story.
"In the Call Center, it was easy to get upset about clients or with teams, because it's like, 'Why are you keeping this client open? They're just wasting your time, they're just wasting our time.' But when you have the full picture of the treatment plan and what's going on with that client, it's better knowing the full story and knowing that it's not just wasted time and energy because this client needs our help."
The Access Department is evolving as A&C evolves. Hopes for the future involve a stronger Crisis wing and further integration with the Outpatient and Addictions service lines as Access Director Lauran Canady overtakes leadership of those teams.
Though Access may not be the first mental health service that comes to mind when reflecting on difference-makers at A&C, the heartbeat of the mission is palpable in how Access feels about their work. "Connecting [clients] with services is a very rewarding feeling," Katie said. "I just feel thankful that even if it's a small part of the client's journey with A&C … I was the voice on the phone when they needed someone to listen and just ask 'Are you OK?'"
"I never considered mental health even on the radar of what I wanted to do," James said. "I went to college for journalism and political science and I came here, and I feel like I found a place that I want to be. I feel like I'm making a difference."
"I really got into this role to help people," Anders said. "I've just been really amazed by the work that all of us do … Never compromising in terms of client care."
Need to call or visit? You can reach our Open Access service at 877-882-5122, or by visiting our locations at 222 E. Ohio St., Indianapolis; 8404 Siear Terrace, Indianapolis; or 1860 Northwood Plaza, Franklin. Adult & Child Health accepts Medicaid and most commercial insurances. We also offer an income-based sliding fee scale for those without insurance.