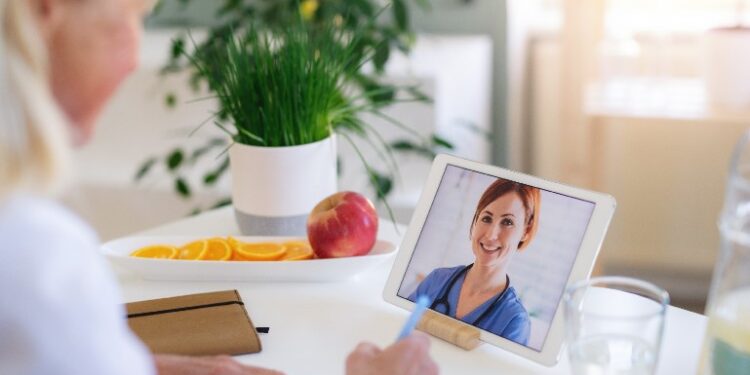 When the COVID-19 pandemic hit, it affected virtually every aspect of our lives. The virus forced health care agencies to adapt and adjust like no other entities.
Clients were suddenly encouraged into quarantine, reducing their ability and willingness to access primary care and behavioral health care visits. Employees felt equally insecure in providing a service that has always been, until recently, face to face. Adult & Child Health, like nearly everyone else, needed to evolve quickly or risk leaving thousands of under-resourced men, women, and children without access to care.
In late February and early March, when COVID-19 began spreading to the U.S. and Indiana, A&C's leadership was paying close attention. On March 13, when schools began to close their doors and transition to e-learning, A&C effectively transitioned 95% of its medical, psychiatric and counseling service visits from in-person to telehealth delivery models with very minimal loss of client engagement.
RELATED CONTENT: A&C Launches Telehealth to Serve Wheeler Mission Guests
How we transitioned to telehealth
Adult & Child Health Chief Operating Officer Dan Arens oversaw much of the transition process and relied heavily on the expertise of A&C's leadership teams and direct care staff who really drove the hard work. "It was so amazing to see the lengths to which our staff were willing to go to make sure our clients were still being taken care of," he said. "Our 70-year face-to-face business model was upended and re-designed in a matter of weeks. That's a remarkable testament to what can be accomplished by a mission driven team."
He shared his thoughts on the transition process, how it's working today and what it means for the agency and health care in the future.
Q: Which changes we've made to our health care services and access in the wake of COVID-19 do you think will be temporary, and which ones will remain permanently?
A: "Since the on the onset of COVID in mid-March, A&C has effectively transitioned our services from a face to face model to a televideo model and kept the large majority of our patient base engaged in services. From skills development work in the schools, to homeless services, family therapy, registration, and medical services, for the most part, access to our full continuum of care has remained intact via televideo.
"We've found televideo to be a very effective tool under the pandemic circumstances.  The decision to continue these services under a telehealth model really falls to our payors. Under COVID-19, the rules around telehealth billing have been relaxed; if those rules continue to allow telehealth, A&C Health would be happy to continue to offer services under the telehealth model. I suspect, access to some services under telehealth will remain permanently (i.e. therapy, acute medical/psych visits, etc), while others will return to face-to-face only."
Q: Is telehealth actually preferable to our traditional in-person patient visit model? If so, why?
A:"Our clients have really adjusted well to the telehealth model. I believe people appreciate the option; especially those with mobility, transportation, work schedule, or other barriers to care. That said, every client is different in their comfort level with telehealth. In an industry based so heavily upon building relationships, discussing emotionally difficult topics, and working across support networks, telehealth does present its own set of challenges.  Our staff have been really creative in these areas during this emergency, but I believe a mix of face-to-face and telehealth options is the best solution."  
RELATED CONTENT: Our Foster Care Services Are Still Here for You During COVID-19. Here's How We're Doing It.
Q: We serve a specific population compared to traditional health care facilities/agencies. Will telehealth be beneficial to our client demographic long-term, and if so, why?
A: "Many of our clients do experience multiple barriers to care; perhaps moreso than traditional health care.  Telehealth certainly does expand our clients' options for access to care.  Beyond the common barriers like transportation, telehealth does afford us a different approach to treating people who experience mental health challenges that make it difficult for them to attend services in person. 
 "I believe telehealth has also allowed our agency to reduce the number of clients who present at ER's for non-emergent services. Whether for primary care or behavioral health services, telehealth has allowed us to be more nimble in working urgent care patients into same-day visits." 
Q: What changes do we still need to make as an agency (or as an industry) to make telehealth a viable long-term health care access option?
A: "Long term, I believe COVID-19 has forced us all into telehealth models and we've collectively demonstrated the remarkable benefit of telehealth.  Insurance payors, providers, and patients adapted really quickly. As with any new process, we have some work flow adaptations we're working to implement, which will improve client care, follow up, registration efficiencies. The beneficial components of face-to-face health care (like connectivity, body language, empathy, compassion, etc.) don't translate as effectively via tele-video. Those aspects of the visit are very important to good care, so we, as an industry, will need to find creative ways to keep these traits present in a tele-visit model."
Q: How have our clients responded to telehealth? Not just in terms of individual feedback, but participation in the process (i.e. have no-shows increased, decreased or remained flat)?
A: "We've not had a chance to do a patient satisfaction survey and compare pre-COVID versus during-COVID statistics, but I can say our no-show rate has gone down, clients have voiced appreciation that A&C is still providing care. Many other mental health, substance use, and safety net providers closed their doors for weeks at a time due to COVID, leaving people without care. I'm very proud of our staff's dedication to serving our clients. When a 600(ish)-person agency transitions from a full face-to-face service model to a 95% telehealth service model in about 10 days, you know you have staff who care about those they serve."
This chart (at left) clearly demonstrates the successful transition of visits in our clinics from face-to-face (blue) to telehealth (orange). For scale, pay close attention to the one-month date range. Also notice, our visit counts per day ended higher via telehealth then they started via face to face. 
A similar comparison was made among our traditional mental health center services. We experienced about 7% of our patients disengaged in care during the first months of COVID. Those who remained engaged were highly effective in transitioning to telehealth. We have seen an overall reduction in the duration of our visits, which is to be expected as people assimilate to telehealth.
RELATED CONTENT: How to Use Our Patient Portal for Your Family Medicine Needs
Q: As an integrated care agency, is our experience with telehealth unique compared to other, more specialized agencies? Are there particular service lines that have benefited more from telehealth, and if so, why?
In speaking with many other safety net mental health and Health Center agencies, A&C was certainly one of the fastest to adapt and transition to a telehealth model; including the ability for our staff to work remotely to see clients.  This was no small feat and was rooted in our IT department's ability to make rapid changes in tech platforms, onboard machines, and do all kinds of behind-the-scenes techno magic while our clinical staff were concurrently learning how to operate, and provide strong clinical care, under a telehealth model. 
I believe A&C's experience was unique because we moved so fast. Our clients experienced minimal interruption in care compared to other centers closing their clinic doors completely.  Agency-wide, telehealth has allowed us to continue nearly every service line in some capacity.  Beyond the direct care staff, this transition impacted every admin/support department as well. Our facilities crews, front desks, clinical quality, HR, analytics, accounting, and revenue cycle departments all played a front or back end role in this transition. It's probably fair to say the transition to telehealth impacted every person, every job, every department. And I personally appreciate every person's role in this process.
I'd never ask to relive the COVID-19 pandemic, but I have been truly amazed by our staffs' response under the pressure of this pandemic.  So many staff stepped forward to lend a hand, put in late hours in planning, and work outside their comfort zones to make sure the people we serve continued to be served.  It's been a humbling experience to say the least."
Want to learn more about our Telehealth options? Call us at 1-877-882-5122 to see what options work best for you and your family.