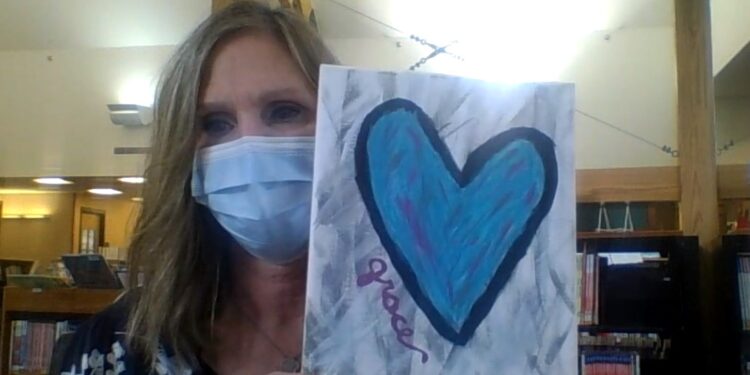 When I first met Angela Wood, it wasn't surprising how well-spoken, engaging and self-assured she is. Anyone who meets her would tell you the same thing. They certainly wouldn't notice any skills development needs.
That exterior appearance belies everything she's endured in recent years. It also inspired her artwork that currently hangs in the lobby of Adult & Child Health's primary care clinic in downtown Indianapolis.
"I can decorate, but I'm not good at art," Wood said, even though her artwork suggested otherwise. "I prayed about it, and it was really special. The Lord put a picture in my head of what I could display. I went through some terrible trauma … I'm just so grateful to breathe when I wake up in the morning."
RELATED CONTENT: A&C Launches Telehealth to Serve Wheeler Mission Guests
The painting and its meaning
Every component of Wood's painting, "Grace," is intentional. The heart's black border represents her trauma. The lighter shade of blue inside the heart "was the Lord showing me that my heart was full of color, light and hope again. So I wanted to make the inside brighter and cheerier," she said.
Trauma doesn't seem visible when you meet Angela. But as she tells her story, though, you begin to understand there's plenty of it.
Angela suffered a traumatic brain injury (TBI) five years ago, the victim of a domestic violence incident, which she said almost killed her. She was hit on the back of her head with a metal base. The injury didn't seem life-threatening at first, but as time passed, she began to notice cognitive issues.
"I didn't tell anyone (at first) because I was scared; I didn't go to the hospital," Angela said. "Things were getting harder for me. I would freeze up; had trouble showering. My son and sister were trying hard to help me. One morning, I woke up to get ready for work and could not move. I called my boss and went unconscious during the call. I was exhausted; couldn't think straight. My son and boss came to my house and called the ambulance."
RELATED CONTENT: I Took Mental Health First Aid Training. Here's Why You Should, Too.
How skills development improved her life
After Angela was released from the hospital about five years ago, her brain function hadn't improved enough to make her self-sufficient, so she went to Wheeler Mission. During her time there, she hooked up with A&C and Carla Jones for skills development assistance. She's still seeing Carla, five years later, about once a week.
"They saved my life," Wood said of Jones and Kelsey Schrank. Jones serves as Wood's Skills Development Specialist, and Schrank works as her Therapist. "I could not have recovered without that support. Carla has helped me grocery-shop again and cook. When we first started, I had a lot of trauma reappear. I had a lot of panic attacks and nightmares, but then I started moving forward again. She helped me with the communication piece. I saw trauma affecting my communication. We would go places together, and then we'd evaluate how I did and what I said; not to let my triggers and anxiety affect me when I'm out in society. I feel like I'm doing a lot better now."
Jones enjoys working with Angela and helping her improve.
"I'm very thankful to even have this opportunity to be her skills development specialist to be able to assist her to build resiliency skills and improve her overall quality of life," Jones said. "I'm just glad to be here with her through it."
Schrank admires Wood for acknowledging her issues, and the bravery she's shown addressing them.
"TBI and trauma are very similar," Schrank said. "From the outside looking in, someone might not know. To that person, it's a very real experience and there's a lot of shame involved in that. She's doing a great job of describing something that's a hard thing to survive."
How therapy is helping alongside skills development
While Jones helped Angela with the practical, everyday-life side, Schrank assisted with the attack's emotional effects.
"Kelsey helped me so much with confidence and self-care," Angela said. "I was so used to taking care of others, I didn't realize how I wasn't taking care of myself. The (domestic) relationship as it became toxic was taking me. It wasn't letting me be who I am. I'm healthy. I have peace and joy again. I can be who I was created to be without stress."
Wood said Shavon Donald has also been instrumental in her ongoing recovery, because she's felt thankful to have a supportive psychiatrist who believes in her and her recovery process.
Do want to help us help others live healthier lives? Here's how to donate.
What's next for Angela
Angela recently reunited with her family. She has two sons and a daughter, all adults, and she hopes to spend time with her two young grandchildren soon.
Angela's transformation has awed Schrank.
"When we first started working together, I heard Angela often express that backward-looking view. When will I get back to the old me? Recently, I've heard such an evolution. She's excited about the future. You can see how recovery brought about new opportunities for her."
Angela wants to teach a yoga class or own a yoga studio someday, or possibly reach out to others on their own recovery journey. "That's kind of my new passion."
But not artwork?
"My first response was, 'Oh no, my artwork isn't going to be amazing, but it's not what it looks like, it's what it meant to me," Wood said. "I hope my artwork touches someone else that there's a light at the end of the tunnel."
Are you having a mental health crisis, or do you know someone who is? Call our Open Access Crisis Line at 1-877-882-5122.