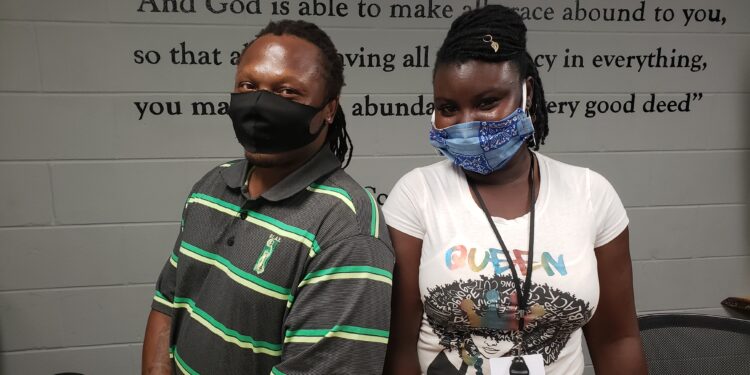 Take away the walker, and Steve Dycus looks like a relatively healthy man who doesn't need telehealth services. But as he lifts his right shorts to expose his leg, you can see the scar from the surgery that took place 20 years ago, after four gunshot wounds penetrated his leg.
What you don't see are the struggles he's endured since. The medication side effects brought on mental health challenges. He's bounced from one doctor to the next, from one hospital to the next, from one prescription to another, seeking answers.
When the COVID-19 pandemic hit, Steve's predicament worsened. He contracted the virus. He endured serious, but not life-threatening, symptoms, so Steve couldn't see doctors for his previous conditions. Because of the virus, he couldn't stay with his girlfriend any longer.
He went to Wheeler Mission. There, Quedawnta Clemons, a case manager at the Mission, knew how to address Steve's health concerns.
She knew Wheeler recently partnered with Adult & Child Health to provide telehealth services for Wheeler residents. She knew A&C was a perfect one-stop shop for residents like Steve, who needed physical and mental health care, and until now, couldn't get it in one place.
"It really puts a smile on my face to know I'm getting the help that I need," Steve said. "I'm not getting any rejections or being put on the back burner about what's good for me, and I can also have someone that listens and can get me the best feedback without the medications, without "try this, try that," and the complications and the side effects are very real."
RELATED CONTENT: How to Utilize our Patient Portal for your Family Medicine Needs
How the telehealth partnership works
Adult & Child Health recently provided Wheeler Mission with iPads, where residents could register for health care services via telehealth. The resident registers while a Wheeler Mission case manager assists. Then Reba Chapple, A&C's Certified Medical Assistant who serves as a liaison between the agencies, helps residents arrange appointments, fill out paperwork, and assist clients as they apply for insurance.
A&C has already helped about 35 Wheeler residents address their health concerns. The relationship began as A&C sought new ways to offer patients convenient access to services. COVID-19 forced so many changes in how health care providers limit in-person contact, and it kept lots of patients from making their appointments.
"Back in mid-May, we started having discussion about how to get more patients in the door and get more people access to care," Chapple said. "Shirl (Demmings, Director of Practice Management) had talked to Wheeler, and they had patients that needed primary care and wanted behavioral health (services). I said I'd love to help with this in any way I can. We're an FQHC (Federally Qualified Health Center), that's our job. We devised a plan to do telehealth and get people seen."
Chapple said most Wheeler residents who utilize the iPads for their health concerns seek several different health care services.
"Because of COVID, not being able to go see doctors, not having insurance, social distancing, we have a lot of guests here in the shelter who have mental problems that we have to deal with," Clemons said. "We can still get the guests online, so that first interview with the iPad is letting them know what's going on, since we couldn't see them face-to-face."
RELATED CONTENT: How Blue Triangle Helped a Homeless Man Recover
Who we've helped with telehealth
Steve Dycus isn't the only one who's benefited from the partnership.
"One guy had diabetes for 10 years, was homeless and didn't have any insurance," Clemons said. "He came in due to COVID, and we were able to get him on insulin and we were able to save his life."
Since Chapple talks to every Wheeler client, she's familiar with all of the stories. One stands out.
"There was a younger gentleman who had a long, complex medical history (heart failure), behavioral health issues … the list was epic," Chapple said. "We were able to get him in a telehealth appointment and ordered labs for him. When he came in, he wanted to know which one of us was Reba. He hadn't been on his heart meds, he had an eczema breakout. He said he had energy again. His case manager was elated. Actually seeing him in the clinic was my favorite moment."
As for Steve, his gunshot wounds eventually gave him Peripheral Artery Disease, and the resulting plaque buildup in his arteries necessitated his walker.
Steve is just starting his journey with Adult & Child Health, but he's excited about the possibilities.
"I just want to get lowered down to where I'm OK," Steve said. "There's just some things I have problems with; some issues mentally that I would like to speak to someone. I've been speaking to someone on the virtual camera because of COVID and it works to talk to somebody that listens, but I know I can have more dealing with Adult & Child."
RELATED CONTENT: Why Adult & Child Health is an Ideal Agency to Offer Medication Assisted Treatment
How else A&C is addressing your health concerns
Adult & Child Health isn't stopping with iPads at Wheeler Mission. We're also offering Virtual Primary Care for those clients who aren't comfortable making in-person appointments for their health concerns. All initial appointments, except those involving lab work and injections, will take place via Telehealth. Clients can call 1-877-882-5122 to make an appointment or learn more.