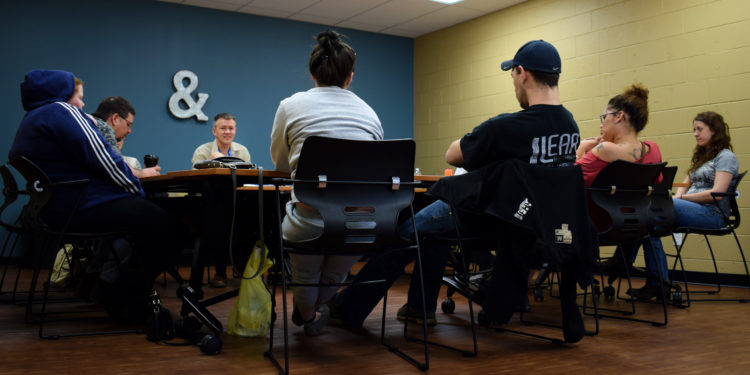 Mental illness and addiction are cousins. They're related. For those who are addicted or dealing with mental illness, they share a similar bone structure and can often trace their lineage back to the same type of pain.
Adult & Child Health knows this and has always offered support to addicted people. However, the opioid crisis hit addictions treatment in Indiana hard. The addictions team at Adult & Child Health was no exception. It forced this service line to make a decision in the face of such a heavy burden: to strengthen or to snap. It chose to strengthen.
How Adult & Child Health is serving those who are addicted
The addictions team rebuilt in 2017. It wanted to rally and meet the community's significantly increasing needs. Over the last year and-a-half, the addictions team and its leadership partnered to grow and develop the best team and service structure. Adult & Child Health hired nine licensed clinical addictions counselors. It also created a working relationship with every service line that could offer substance abuse assistance.
The opioid crisis has strained the Addictions Team's efforts from day one. That said, the team's "passion and dedication to providing the best quality care makes me proud to be a leader within this team," said Lauran Canady, director of clinic-based services. "The team works daily to navigate, problem-solve, advocate, and support their clients through their addictions journey. I have recently joined the leadership team of this service and have been very impressed by the commitment and passion each and every one of them have for their clients."
All Adult & Child Health offices have Licensed Clinical Addiction Counselors. They're also fully integrated into the A&C continuum of care.
RELATED CONTENT: How Blue Triangle, a program in which Adult & Child Health partners, helped a homeless man recover
How addicted clients find Adult & Child Health
Clients enter addictions treatment a few different ways. The Department of Child Services refers addicted clients, or it's a stipulation for probation. A&C has grown partnerships with probation, Recovery Works and DCS in all communities it's served over the last two years.
"It is a direct reflection of the work that our clinicians do that we have been able to successfully grow these community partners," Canady said.
Adult & Child Health services are voluntary and self-referrals are common. A call to the Call Center (1-877-882-5122) or a visit to Open Access can get them on the right track.
"Taking that first step forward in seeking help takes a significant amount of courage and vulnerability for our clients," Canady said. "We want our clients to know that every time that walk through our doors that making themselves that vulnerable was worth the risk."
Adult & Child Health also screens people who come through Open Access for mental health or physical health issues for substance abuse disorders. From there, the access screener can refer them to any necessary service.
It's common for mental illness to spark and feed substance abuse disorder and vice versa. Because of this, it's important for this team to employ dually licensed clinicians. They often treat the two at the same time as well as teach how these illnesses affect one another.
How does it work?
The level of care will always depend on the client. The addictions team currently has three different tiers of group support. The highest support level is the Intensive Outpatient Program. This group meets three times a week for three hours for up to 16 weeks. This is often in conjunction with Medically Assisted Treatment (MAT), where doctors from Adult & Child Health's primary care clinics oversee the client's physical health.
There are many physical side effects from using and withdrawing from substances. Because of this, treating health complications in tandem with other supports makes sense. Part of MAT can also involve receiving Vivitrol treatment. Vivitrol, a brand name for the substance Naltrexone, blocks an opioid high's effects for up to 30 days.
RELATED CONTENT: Emily is a client of Adult & Child Health's IOP program, watch her story here. 
"Over the last year and-a-half, we have been expanding our Medication Assisted Treatment program and are now able to provide it at three of our locations," Canady said. "This has greatly enhanced the number of clients that we have been able to touch in the communities that we serve."
All these support layers exemplify the Matrix Model. It signifies the use of multiple support layers and applies multiple strategies and techniques to fully equip people to stay sober.
The group tries to wrap the client in support. So many factors feed substance abuse. The addictions team addresses as many of them as possible, so addicted clients achieve as much success as possible.
Other care levels for addicted clients
The next tier down is the Living in Balance group, which is less intensive. It meets for two hours twice a week. Many DCS referrals feel comfortable here. It's modeled for someone who functions at a higher level and can fit into a full-time work schedule.
The Brief Intensive group is for people whose substance use is teetering on the verge of disorder. Participants meet two hours one day a week. They learn more about long-term substance abuse complications and how to combat the compulsion early. Motivational interviewing plays a big role in this type of treatment.
Building avoidance skills before physical and mental dependence forms helps participants succeed. Everything the clients learn in each of these groups is evidence-based and considered to be best practice within the industry.
RELATED CONTENT: Learn more about Adult & Child Health's Community Based Treatment for mental illness.
What each group has in common
Each group includes individual therapy and/or family therapy and skills development sessions. Group treatment has the most success evidence. Individual treatment is also available for those who have social anxiety or who simply aren't comfortable. The addictions team and Open Access can create tailored treatment plans depending on clients' circumstances.
This is how Adult & Child Health embodies the idea of a continuum of care. Health care in general, but especially among addicted clients, sticks better when they address all aspects of wellness simultaneously by collaborating professionals.
What's new about the program
"It is an exciting time to be a part of the addictions team," Canady said. "We have several areas that we are continuing to grow our services so that we can meet the needs of our clients and community.
The team recently added two Peer Recovery Specialists. Recovery Coaches provide a strength-based approach. The assist the client in connecting with recovery community supports and community resources.
Recovery Coaches build on the client's strengths, abilities and resources. They also work to decrease or stop substance use, increase the belief that recovery is possible, and increase life skills. Recovery Coaches support the clients' positive changes and help them overcome any obstacles that might inhibit the positive change.
The Addictions Team partners with Dr. Christine Negendank's team to expand the medication assisted treatment programs that A&C can provide as an agency.
What the future holds
"We are also looking at expanding our programs to include gender-specific treatment focus and increasing our family involvement in our treatment," Canady said.
"We continue to grow and foster our partnerships with our community partners probation, DCS, recovery courts, in order to help clients struggling with addiction get the whole health care that they need. These partnerships allow us to educate community partners on the addictions disease and increase through treatment and intensive partnerships the outcomes for recovery.
"Our adolescent program is continuing to be essential to attempt to improve the lives of our adolescent clients early in their stages of addictions," Canady continued. "We will continue to offer this program, as adolescents are underfocused part of the addictions population."
RELATED CONTENT: Learn more about Adult & Child Health's Wraparound Services programs
This group is designed for 14-to 18-year-olds and uses the Matrix Model. This group meets at Adult & Child Health's 8320 Madison Ave. location for two hours, two days a week. It addresses the full scope of combating addiction. It also focuses on relapse prevention training and developing intervention skills to build coping abilities.
How families can help addicted clients
RELATED CONTENT: Learn more about how Adult & Child Health helps clients with their job search skills.
"The Addictions team aims to be a resource to the agency as a whole," Canady said. "Addictions needs could potentially touch all services that we provide as an agency, and we want to help improve the quality of care and understanding of addictions no matter where our clients receive services.  We continue to look at education opportunities to expand everyone's comfort level, but want everyone to remember to please not to hesitate to reach out to our team."
This is an updated version of an article that originally published Jan. 17, 2018.