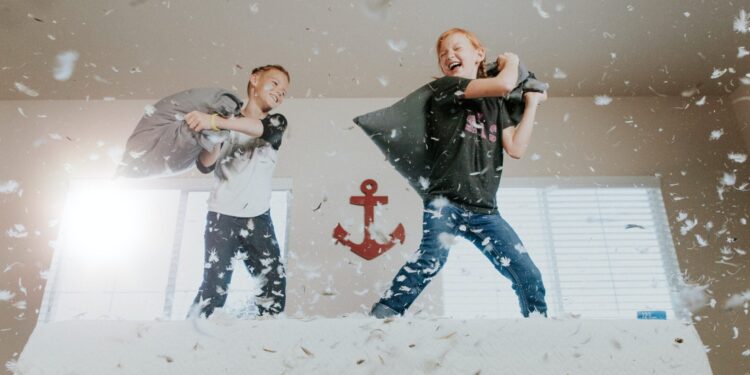 These last 14 months haven't been easy on children, for several reasons. The phrase "daily routine" morphed into a quaint, almost yesteryear-like premise during that time.
It's even more challenging for children who experience mental and/or behavioral health issues. Our School-Based Services assist children in conquering all types of barriers to school success, including social, behavioral, and developmental, through 1-on-1 therapeutic support & skills development.
Naturally, these types of students face challenges whenever something disrupts their daily routine. When school ends and summer vacation begins, it's inevitable.
We talked with Kelly Esposito, Team Leader on Adult & Child Health's Marion County School Based III team. She emphasized the importance a daily routine has in children's lives, particularly those with mental health issues.
RELATED CONTENT: Why School Reopening Might be Challenging for Your Students
How our School-Based team works with students
During the school year, Esposito and her team meet with students as issues arise, but the dynamic changes when the school year ends. She said therapists and skills development specialists will meet with students anywhere from one to three times weekly, depending on need, and take them to places like a park, library, or an A&C building where they can build on the skills they've learned throughout the school year while they participate in fun activities.
"When we're in school, it's not as structured as far as session time," Esposito said. "You're often responding to needs that arise in the moment and we find ourselves putting out a lot of fires. In the summers, we typically have a much more structured time with the kids. It's usually a set appointment each week, which gives the providers time to plan a lesson, curriculum or activity ahead of time. We go from seeing the kids in the school setting 90% of the time to being home-based or community-based once school lets out."
Kelly works with Indianapolis Public Schools students, and she said each therapist or skills development specialist works with anywhere from 15 to 35 kids at a time. She added that it's common for caseloads to decrease significantly during the summer, although it's typically due more to circumstances than apathy.
"We have a lot of transient families that move during the summers due to circumstances that are out of their control," Esposito said, adding, "If that student ends up back in one of our schools next school year, we are often getting another referral for them once school starts back up because a lot of skills were lost during those summer months without services."
RELATED CONTENT: See How Our Youth Development Program is Helping its Participants Excel
Why daily routine is so important
Kelly said a big reason those referrals happen again is because the kids don't have much structure to their lives during the summer months.
"Mental health issues don't stop just because school's not in session, so it's important that families continue sessions with their mental health providers if they are able to do so," she said. "Structure is very important, and it can look different for everyone. Some kids need more structure, while others are better at managing their free time. You can gauge what each kid needs based on behavioral changes. If they're acting up and starting to have outbursts, they might need a little more structure. Wakeup times, bedtimes, set meal times … that transition when school starts up again will be much easier. If the parents are good about keeping some sort of structure, for example, not letting them sleep until 2 p.m. or stay up until 2 a.m., it's pretty good for the most part."
Esposito said the summer can be a crucial time for developing better therapist-student relationships. With no school day to interfere, there's more time for 1-on-1 care.
"We don't always have that full picture of what they're like outside of school," she said. "We're not always able to have fun sessions a lot of the time during the school year. We often don't have time to play games because we're responding to meltdowns or misbehaving, but during breaks we can spend more time together, get to know them more holistically, and make it more fun for them. In the summer, they don't have those stressors of school, so instead of putting out fires, we have ample time to teach clients the skills to use during future situations that might arise."
What can parents do?
Child Mind Institute suggests several tips to keep children on track during the summer months, so when school resumes, they can hit the ground running. Here are a few ideas they provided:
Maintain your schedule. While you may never be able to duplicate the structure school provides, it helps to maintain the school year's daily schedule, right down to meal times and bedtime as much as possible.
Make it visual. Kids who thrive on predictability and are prone to panic over transitions — including those on the autism spectrum —benefit from posted schedules that outline what will happen throughout the day (i.e., 7 a.m.: wake up, go to the bathroom, wash face…8 a.m.: breakfast…) Depending on your child's developmental level, simple pictures can also help.
Make plans. Try to schedule as many activities as possible, as early as possible, and keep your kids posted. This can mean anything from "we're going to Aunt Mary's house at 5 p.m. Thursday  for dinner" to having a set routine that every day, weather permitting, you'll be going to the playground or pool.
Ingrid Prueher, a pediatric and adult sleep expert, added a few more suggestions:
Don't forget about nutrition. While you focus on good nutrition during the school year, you may be tempted to substitute less healthy choices in the summer. Be sure to keep your child hydrated, and don't sugar them up with too much juice and candy and, as always, avoid processed foods.
Have a weekly family planning meeting. Since children thrive on a daily routine and become anxious when they can't predict what's coming, have a family meeting once a week, maybe on Sundays, and discuss the upcoming week's activities.
The bottom line: daily routine is essential
Ultimately, Esposito said parents should make sure kids have some sort of structure to their summer days. It's OK if their daily routine isn't as regimented as it is during the school year. But it shouldn't be a free-for-all, either.
"The biggest adjustment is just going from structure and routine eight hours a day five days a week to potentially nothing," she said. "If parents can adapt to that and find some structure, whether it's a set meal time, bedtime, play time, chore time, etc., that can often be helpful. It can also be helpful to look into opportunities for social interactions for your kids, not only as an addition of structure during the day, but also to give the parents a little break and chance to recharge.
"Oftentimes, a lot of the clients we work with aren't the most social or are very isolated in the summer. School is their one place where they can be around other kids and learn how to be a good friend and how to socially interact. Try to get them involved in some activity if that's possible, whether it be sending them to a summer camp, getting involved in a summer sporting league, or even if it's taking them to a community pool or a park and get some social interaction."
Want to donate to our mission? See how your monetary donation can help.